League Of Extraordinary Gentlemen Is Headed Back To The Big Screen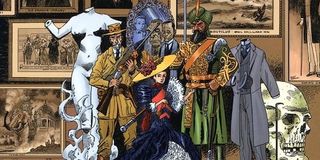 The League of Extraordinary Gentlemen is not a great movie. It does have fans, but there aren't many arguing the other side of that statement. But it is based on an popular, acclaimed collection of comics, and as such, the property is getting another chance at the silver screen glory it missed out on last time.
According to The Tracking Board, 20th Century Fox is giving the literary-themed graphic novel by maverick comic legend Alan Moore and Kevin O'Neill another crack. When the first film was released in 2003, it did so with high expectations and an all-star cast that features Sean Connery in his last on-screen, live-action role. And it did not even come close to meeting those, as it only grossed $66 million domestically ($179 million worldwide), and was roundly panned by critics.
The box office wasn't too surprising. As popular and well regarded as the title is in the realm of comic book fandom, it's not exactly the most accessible story and is a kind of a hard sell to a general audience. Envisioned as a sort of Justice League in old-timey England, the 1999 saga follows a team made up of famous characters from literature, like Allan Quatermain, Mina Murray, the Invisible Man, Captain Nemo, and Dr. Jekyll and Mr. Hyde, who team up to battle the likes of Fu Manchu, and even end up in H.G. Wells' War of the Worlds.
It's a pretty wild ride, and one that did not translate particularly well to the big screen. The film also brings in the likes of Dorian Gray and Tom Sawyer, and while it gets to the point where it's almost on the verge of becoming a fun, rollicking adventure, it gets mired down in a jumble of messy motivations, or lack there of, and the finished product scarcely resembles the source material in any way. There was reportedly a great deal of studio interference.
Just a few years ago, back in 2013, Fox was working on developing a TV series based on League of Extraordinary Gentlemen. Michael Green, screenwriter of the Ryan Reynolds-fronted Green Lantern was set to be the showrunner, and they even gave it a put pilot deal, though nothing ever materialized on that front.
There are a number of adventures in the comics, and as the 2003 film was originally envisioned to be the launching point for a new franchise, you can bet your that the studio still has similar aims as far as expanding the brand goes. And there's serious potential involved too. Sure, the idea may be a bit out of left field, but it's also cool and unique, and if they stay truer to Alan Moore's vision this time, and the studio doesn't mess around with the process too much, we could see something special emerge.
Your Daily Blend of Entertainment News