Leonardo DiCaprio Wants To Play Vladimir Putin And We Need To Make This Happen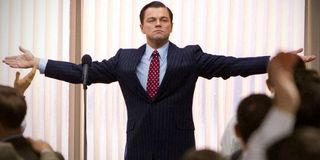 Leonardo DiCaprio is currently one of the biggest actors on the planet. His status is only going to be enhanced when he probably, but almost certainly, wins the Best Actor Academy Award at next month's Oscars for his performance in The Revenant. But Leonardo DiCaprio is looking beyond that. In fact, he's already picked out a dream role for the future, revealing that he'd love to play Vladimir Putin.
The actor made this admission while out promoting The Revenant, which is currently the Oscar front-runner in a number of categories following its success at the Golden Globes earlier this month. Speaking to the German publication Welt am Sonntag (via The Guardian), Leonardo DiCaprio said that he's intrigued by the divisive politician, while he also insisted that more films about Russia's vast past should be created.
While the thought of Leonardo DiCaprio playing Rasputin or Lenin is obviously appealing, I think we can all admit that we now immediately want the Titanic and Wolf Of Wall Street star to appear on screen as Vladimir Putin. I mean, who wouldn't want to see Leo recreate one of the dozens of photos of Vlad inexplicably topless, or the occasion when Putin scored eight goals in a game of hockey against legend of the sports?
But while the chances of Leonardo DiCaprio playing Vladimir Putin are remote, the Russian leader has revealed his respect for the actor. Even referring to him as a "muzhik," which means "real man," so he'd probably endorse his casting. I mean, who wouldn't want Leo to play them in a biopic?
Leonardo DiCaprio's interest in Vladimir Putin was probably first piqued when he met the Russian president back in 2010 at a St. Petersburg-based conference on the endangered Siberian Tiger. DiCaprio was unable to really pick Putin's brain though, insisting that they only talked about how to protect the animals rather than politics.
The fact that Leonardo DiCaprio, who will compete against Matt Damon (The Martian), Bryan Cranston (Trumbo), Michael Fassbender (Steve Jobs), and Eddie Redmayne (The Danish Girl) for the Best Actor Oscar, has described himself as half-Russian also works in his favour, while it will be interesting to see if he can master either the Russian language or accent.
The ball is firmly in Leo's court though. Because if he really wants to play Putin, he will be able to convince a studio to give him the chance. Especially considering the push that his already rather successful career is going to get with The Revenant's likely impending triumphs.
Your Daily Blend of Entertainment News