Why Leonardo DiCaprio Will Never Direct A Movie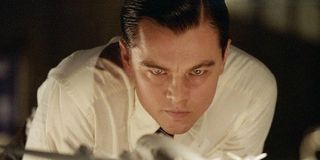 There's a lot of love out there for Leonardo DiCaprio at the moment. Fresh from his Golden Globes success last night, fans of the actor are now already counting down the days until the Academy Awards ceremony next month, where they believe he'll get the Oscar it's roundly believed he covets so badly. Basically, Leonardo DiCaprio is the biggest actor in the world at the moment. He can do what he wants. But directing isn't part of his plan.
Leonardo DiCaprio made this admission before his triumph at the star-studded ceremony on Sunday night, revealing that he believes his success as an actor alongside some of the finest filmmakers to ever step behind a camera probably means that he'd be doomed to fail if he ever tried to shift behind the device himself.
In fact, during his cover story interview with Variety, which was released to coincide with the wide release of The Revenant but also rather fortuitously hit stands a few hours after he picked up the Best Actor for Drama at the Golden Globes, DiCaprio admitted that he somewhat regrets not paying attention and taking notes while working with some of the finest directors cinema has to offer.
This has included Baz Luhrmann (Romeo & Juliet & The Great Gatsby), James Cameron (Titanic), Danny Boyle (The Beach), Steven Spielberg (Catch Me If You Can), Sam Mendes (Revolutionary Road), Chris Nolan (Inception), Clint Eastwood (J. Edgar), Quentin Tarantino (Django Unchained), Ridley Scott (Body Of Lies), Alejandro G. Inarritu (The Revenant), and Martin Scorsese (The Wolf Of Wall Street, Shutter Island, The Departed, The Aviator, and Gangs Of New York). That's a pretty nifty list of cinematic talent, especially when you consider that Leonardo DiCaprio is still only 41.
However, Leonardo DiCaprio has a pretty good reason for his ignorance, as he insisted that he's never been able to sit back and learn from the likes of Scott, Scorsese, Nolan, Mendes, Inarritu, et al, because he was so concerned with what he had to do as an actor on their respective sets. Total pro.
The fact that DiCaprio is still so young means that we shouldn't completely rule out ever seeing him behind the camera. Clearly, as an actor he likes to think long and hard about the roles that he ultimately takes. That's why he's usually only in one film every year. If Leonardo DiCaprio did find himself visualizing a story and script that he had in his possession, then audiences would definitely be interested in seeing what he can produce as a director. But, if not, that's cool too. Because simply seeing him up onscreen is more than enough.
Your Daily Blend of Entertainment News