Leslie Mann Finally Gets Her Shot At Headlining A Major Comedy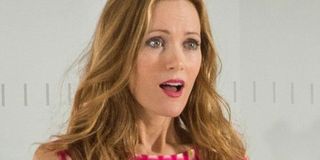 Who cares that The Other Woman is getting trashed by critics? Audiences are turning out in force, which means great things for its leading ladies. Specifically, it means Leslie Mann is being hotly sought to headline a new comedy from DreamWorks called Las Madres.
Variety reports Leslie Mann is attached to star in Las Madres, a comedy about three unemployed friends who grow so frustrated with the difficulty in penetrating the job market that they decide to try their hand at bounty hunting. There's no mention if all three friends are female or who might be considered for the other two lead roles at this time. The project is currently in the early stages of development.
DreamWorks initially bought Las Madres as a pitched script from Lona Williams, the scribe behind the absolutely hysterical beauty pageant mockumentary Drop Dead Gorgeous. The studio has since brought on Pam Brady to punch up the screenplay. Best known for penning episodes of South Park, Brady will likely give the comedy a bit more bite. Could this mean Las Madres will be gunning for an R-rating? It seems likely as Brady's former film credits include such raunchy and wild laffers as South Park: Bigger Longer Uncut, Team America: World Police, and Hamlet 2.
It's a smart move for DreamWorks to snag Leslie Mann while they can. The Other Woman, in which she plays the cheated-on wife who befriends her husbands' mistresses to get revenge, is tearing it up in theaters right now. Critical opinion be damned, this comedy that co-stars Cameron Diaz and Kate Upton pulled in $24 million its opening weekend, enough to beat out Captain America: The Winter Soldier for the top spot at the box office. This past weekend was another win for The Other Woman, as it snared the #2 spot with $14 million, coming in an understandable second to the superhero tent pole that is The Amazing Spider-Man 2.
Here's hoping Las Madres will give Mann a script worthy of her talents. But on paper it's already looking pretty amazing. Williams is not especially well known to comedy nerds, but the blistering humor and giddy irreverence she showed in Drop Dead Gorgeous has me on board for anything she writes. Bringing South Park heavy-hitter Brady on is just gravy. Now all this project needs is a director worth a damn. Bridesmaids helmer Paul Feig would likely be a wish list pick. But if DreamWorks is looking to go lower budget, I'd suggest Jamie Travis, the helmer of the hilarious and underseen buddy comedy For a Good Time, Call…
Check out its trailer to get a sense of why I think Travis would be a great pick for Las Madres's director's chair:
Staff writer at CinemaBlend.
Your Daily Blend of Entertainment News
Thank you for signing up to CinemaBlend. You will receive a verification email shortly.
There was a problem. Please refresh the page and try again.