The Lesson Ellen DeGeneres Wants Pixar Fans To Take Away From Finding Dory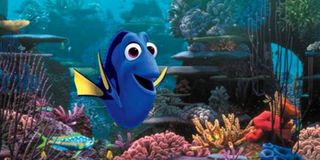 I'm sorry to have to tell you this, but if you have or ever had a pet fish then it turns out that Ellen DeGeneres hates you. OK, that might be stretching it a tad. But, the comedian and Finding Dory actress has now admitted that she wants viewers to realise that fish are not pets, which is kind of what the sequel is all about.
DeGeneres, who starred as Dory in 2003's Finding Nemo, made this revelation while chatting to Yahoo Movies at the D23 Exposition. DeGeneres explained:
You heard it fish shop owners, Ellen DeGeneres is coming after you in a big way. Here's the thing though, if you've instantly been won over by DeGeneres' comments and you're already halfway through putting your fish into plastic bags in order to get them back to the sea, just remember to take them out before you put them into the water.
Because if you don't, then your fishes will end up looking something like the final shot of Finding Nemo. Which, just in case you don't remember, looked a little something like this:
Now, the fact that Willem Dafoe's Gill and Vicki Lewis' Deb are in Finding Dory means that they were able to escape from their plastic coffins. Whether the rest of the posse managed to remains up for a serious debate, as their appearances in the films have not yet been confirmed.
Even though it's being released 13 years after its predecessor, Finding Dory will be set just six months after the first film. Dory, who is one of the greatest supporting characters that Pixar has ever created, has now been moved front and centre for the sequel, because alongside Albert Brooks' Marlin and Hayden Rolence's Nemo she sets off to find her parents.
And because Pixar is just so gosh darn perfect, Dory's mother and father will be voiced by the always magnificent Diane Keaton and Eugene Levy. Plus, the film's vocal ensemble has also been boosted by the addition of Modern Family's Ty Burrell and Ed O'Neil, as well as It's Always Sunny In Philadelphia's Kaitlin Olson. And if that's not enough, there will also be a mini Wire reunion as Idris Elba and Dominic West will feature too.
Of course, John Ratzenberger, who has voiced a character in every single Pixar film, will also need to appear, otherwise there will probably be a riot at the studio's headquarters. But that goes without saying. Finding Dory will be with us on June 17, 2016.
Your Daily Blend of Entertainment News
Thank you for signing up to CinemaBlend. You will receive a verification email shortly.
There was a problem. Please refresh the page and try again.