Finding Dory Will Feature An Awesome The Wire Reunion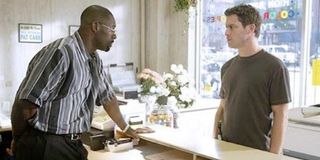 Fans of The Wire who dreamt that the show would one day have a reunion can kind of rejoice! Dominic West has confirmed he will voice a character in Pixar's Finding Dory alongside Idris Elba, a fellow alumni of HBO's critically lavished drama.
During a discussion with Shortlist , West revealed that the hugely anticipated sequel to Finding Nemo will have a Baltimore vibe flowing throughout it. "We're both in the sequel to Finding Nemo," declared the actor when probed, "so we were recording that."
There's not too much more to glean from West's remarks, but the fact that he noted the pair recorded their vocal efforts alongside each other would suggest that their characters will appear on screen together.
Does this mean that there will be references to Bubbles, Carver, Lester and Omar dotted throughout the Pixar adventure? You'd hope so, but they will probably be hidden in amongst the numerous other anticipated Finding Dory Easter Eggs. What I'm saying is that you shouldn't expect West and Elba's characters to be animated versions of Jimmy McNulty and Stringer Bell.
West's McNulty and Elba's Bell were two of the main characters of David Simon's outrageously awesome The Wire, which revolved around the impact of drugs in the city of Baltimore. West stuck around for every season of the show, while Elba was a key figure for the first three seasons until his character, spoiler alert, met a rather unsavoury end.
Since then it's probably fair to say that Elba has been cast in more prominent roles than his fellow Brit. Luther, Thor, 28 Weeks Later, Rocknrolla and Pacific Rim have each benefited from his talents. But that's not to say that West hasn't had his share of impressive roles too, with his turns in The Hour, Appropriate Adult, and Centurion drawing praise too.
Finding Dory is set to hit theaters on June 17, 2016, and most of the ensemble are set to return for the follow-up. Albert Brooks, Ellen DeGeneres, Willem Dafoe, and Alison Janney have confirmed their appearances, and Marlin, Nemo and the entire Tank Gang who helped to free Nemo from the clutches of P. Sherman's niece, Darla, will also feature prominently as well
Further details regarding the film are still at a minimum, but Pixar has confirmed that it will be set just off the Californian coast a year after the antics of Finding Nemo, and will revolve around Dory trying to find her family.
Fellow newcomers Diane Keaton and Eugene Levy will play Dory's mother and father, Jenny and Charlie, while It's Always Sunny In Philadelphia's Kaitlin Olson will voice Dory's adopted sister, who just so happens to be a killer whale. Where Dominic West and Idris Elba will fit into Finding Dory's eclectic ensemble remains to be seen, but if one of them doesn't shout out "5-O" then their casting will be seen as a wasted opportunity.
Your Daily Blend of Entertainment News
Thank you for signing up to CinemaBlend. You will receive a verification email shortly.
There was a problem. Please refresh the page and try again.