Finding Dory: What We Know So Far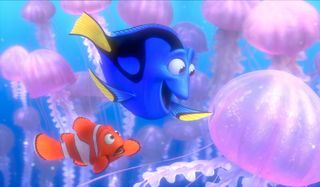 Sequels. A few years back, Pixar found themselves heavily involved in the sequels game. Toy Story 2 wasn't the exception anymore. Cars begat Cars 2. Monsters Inc. gave way to Monsters University. A third and fourth Toy Story became realities. And now, Finding Nemo is getting a sequel.
Pixar's summer release in 2016 will take audiences back into the water with everyone's favorite forgetful fish. Finding Dory will reach theaters almost 13 years (!!) after 2003's Finding Nemo introduced us to a nervous clown fish, his suffocated son, and the amnesic blue tang fish that helped them on their rescue mission. But what has changed between now and then? A lot, both on the screen, and off. Let's dive in to Pixar's latest sequel with our What We Know So Far guide to Pixar's Finding Dory.
When Is Finding Dory Coming To Theaters?
Pixar's latest arrives in theaters on June 17. This puts Finding Dory in direct competition with Dwayne Johnson and Kevin Hart's Central Intelligence. But there are no other animated movies coming out in June, and The BFG doesn't open until July 1, meaning Dory should be able to corner the family market for several weeks. This also happens to be one of those years where Pixar only has one movie in theaters (next year will bring both Cars 3 and Coco, for example), so audiences needing a Pixar fix will want to grab Dory tickets today.
What Is Finding Dory Rated?
Per Box Office Mojo, Finding Dory will be rated PG for "mild thematic elements." Over the years, Pixar films have either been G or PG (with movies like Brave, Up and last year's Inside Out pushing the envelope ever so slightly to earn a PG rating), so a PG rating isn't a huge surprise. However, Finding Nemo was rated G, so parents with younger children might want to screen this one ahead of time, if they have concerns about whether or not the content is appropriate for their child.
What Is Finding Dory About?
So, what will the sequel be about? We learned a while back that the action for Finding Dory was shifting out of the ocean. That's a drastic shift. Where can you go with a fish, if not the ocean? It's since been confirmed that the bulk of the story will be set at the Marine Biology Institute of California, a rehabilitation complex for marine life that also has the nickname of "The Jewel Of Monterey, California." It's here where Dory was born, and where we'll meet most of the new characters. Dory will be separated from Marlin and Nemo for long stretches of this movie. The sequel will pick up just six months after the first movie, and its first scenes will see Dory joining Nemo on a class trip to watch manta rays migrate home. After being sucked into an undertow Dory is knocked unconscious. In this state Dory has a vision, and sometime later she has a flashback of her parents and growing up, and during her sleep she repeatedly tries to migrate away. Nemo convinces Marlin to allow Dory on her trek across the ocean from the Great Barrier Reef to California to try and learn about her past, as well as find her parents. The quest to find "home" powers the story.
Dory
When Pixar decided to go ahead with a Dory-centric sequel, as opposed to following Nemo or Marlin, it became very important to bring Ellen DeGeneres back into the fold. The comedian and daytime talk show host signed on then dotted line way back in August 2012, which we hope means that she was given time to help make her return to Pixar a bright and shining success. Of course, Ellen is still rather busy with her own talk-show empire to preside over, but it also seems like she was able to contribute her own ideas to the film as she has already spoken at length about how Finding Dory teaches the world that "we really need to protect" the ocean. The first trailer released in November proved that Dory will be front and centre in the follow-up, which is something that we probably could have all gathered from its title, while even teasing that Dory's sleep-swimming will send her on her pursuit. In fact, its new poster did just that too, as it unveiled that Finding Dory's tagline will be, "She just kept swimming …" Pixar have already confirmed that Dory decides to find her family after learning about migration instincts, and, of course, she decides to take Nemo and Marlin along too. Speaking of which …
Marlin
You can't really do a sequel without bringing back some familiar characters, and Finding Dory will have the blue tang fish's running – er, swimming partner, Marlin, voiced by Albert Brooks. This, also, is fantastic news. There's a sense of "getting the band back together," and a Nemo continuation without Marlin would be lacking. It's not exactly like doing a Toy Story film without Tom Hanks or Tim Allen… but it's close. It'd be like if Larry The Cable Guy or Owen Wilson didn't return for a Cars movie. You'd notice that the voice was missing. However, from what we hear about the sequel, Marlin might not be around for the duration of the film as once Dory enters the Monterey Marine Life Institute it's believed that she will be separated from Nemo and his over-protective dad.
Nemo
Although it has taken Finding Dory 13 years to come to the big-screen it will actually only be set 6 months after the antics of Finding Nemo. Unfortunately, the ravages of time means that 21-year-old Alexander Gould, who voiced Nemo back in 2003, is now over-the-hill when it comes to voicing the character, and thus child actor Hayden Rolence has replaced him. The change wasn't that noticeable in the trailer though, and shouldn't derail Finding Dory in the slightest. When it comes to Nemo's participation in Finding Dory it sounds as though he will be in for the ride alongside his father Marlin and Dory, and we can expect him to be much more independent than he was in the original. Escaping the evil clutches of an Aussie dentist's office makes a clownfish grow up real fast.
Gill
While not everyone from Finding Nemo is making it back for the sequel there are one or two of the original posse that will return. The first of these is the Willem Dafoe voiced Gill, who is the stern Moorish idol that inspired Nemo to break the water filter in the original and even gave him the delightful nickname of, 'Shark Bait.' At the moment we're not really sure how he'll fit into the mix, but the actor did insist to Total Film all the way back in October 2013 that it's even better than the original. The D23 footage showed that when Marlin finally allows Nemo and Dory to migrate across the ocean to Monterey he then declares that he knows the perfect fish to guide them. Surely this is Gill. The last we saw of Gill, he was stuck in a plastic bag just outside of the Sydney Opera House. It's safe to assume that he managed to escape – unless he's playing a ghost, which would be kind of awesome – so either he is their guide, a neighbor at the start of the film, randomly meets up with the trio along the way, or is at the Monterey Marine Life Institute. I'm still hoping for ghost.
Hank The Octopus
Of course, to bring a fresh impetus to Finding Dory new characters need to be introduced. One of Dory's new comrades comes in the shape of Hank The Octopus, who she meets at the Monterey Marine Life Institute. Footage of Hank taht debuted at the D23 in the summer showed him meeting the recently caught Dory. In this clip it was revealed that the cephalopod just wants to get to an aquarium in Cleveland because he has "unpleasant memories of the ocean" and wants to live by himself in a glass box. The fact that he is being voiced by the gruff Ed O'Neill may lead you to believe that Hank is a somewhat grouchy fellow. But Pixar have already insisted that he's friendly. In fact the clip at the event also showed him and Dory making a deal to assist each other in their plights, and he ultimately becomes Dory's guide on her journey. It was also revealed that he was previously injured and was spending time at the Institute so that he could recover. It sounds like it was quite a nasty injury though because he only has seven legs. Ouch. No doubt Pixar will use this information to reduce us all to weeping messes of human beings, as they usually do. But the Modern Family star isn't the only link to the ABC comedy that Finding Dory has, because he'll recognise a very friendly face at the premiere ….
Bailey
That's because Ed O'Neill will be joined by his Modern Family co-star Ty Burrell in Finding Dory, as he will voice a Beluga Whale by the name of Bailey in the hugely anticipated flick. Bailey befriends and assists our rag-tag posse in their attempt to locate Dory's family. Obviously, because Pixar are quite adept at creating unique, well-rounded supporting characters that are just as rich as the ones who lead the film, Bailey has his own problems and issues. Mainly that he has an odd shaped head that many mistake for an injury. But it's not. It's just the way that he looks. That's not his only characteristic though, because it's also been revealed that he has "mad location skills" because of his echolocation abilities. And since it's quite easy to get lost in the abyss of the Pacific Ocean, especially when you are offering directions to a fish with amnesia, we can only assume that's going to come in very, very handy.
Charlie
Finding Dory's main plot sees the forgetful fish looking for her parents. And the fact that we know her pops Charlie will be voiced by Eugene Levy suggests that she finds them too. But will it be at The Monterey Marine Life Institute? We're still not sure, because Disney have already confirmed that's where Dory will come into contact with at least three new characters, but they haven't revealed if that includes Dory's parents. There's every chance that the Institute could just be so big that Charlie and Jenny are in completely different tanks. However, before we learn where they actually are and see them reconcile with their daughter, we can expect Dory's parents to pop up numerous times. That's because the film's synopsis has confirmed that Dory is propelled on her jaunt to find them after she recalls her childhood memories. Levy is a fine choice to voice Dory's father. Not only are his own comedic sensibilities similar to Ellen DeGeneres but having appeared in five of Christopher Guest's films we all know that he brings the funny in droves.
Jenny
But who's playing Dory's mother to Eugene Levey's father? Well, another comedic stalwart. One whose past performances in the genre even resulted in her claiming the Academy Award for Best Actress for her work in Annie Hall. Of course I am talking about the one and only Diane Keaton. In Finding Dory, Diane Keaton will star as Jenny, the birth mother to Dory, who gave birth to her in the Monterey Marine Life Institute. At the moment that's all we really know, but the first trailer did tease that Jenny was hugely upset when Nemo left, because as Dory was asleep, she muttered, "Don't cry, mommy. Don't cry." I can only imagine that scene is going to make grown men cry for decades to come.
Destiny
Clearly Finding Dory's team have been watching an awful lot of television during casting, because It's Always Sunny In Philadelphia's Kaitlin Olson has also been brought on-board to join the nautical adventure. Olson will portray Dory's step-sister Destiny in Finding Dory, but rather than being a regal blue tang like her sibling she's a whale shark, which are filter feeding sharks that are only referred to as whales because of their size. But even though she's firmly part of the shark family, Destiny is convinced that she's actually a whale. That is likely to produce many comical scrapes between Destiny and anyone who says that she's not a whale. Which is something that we should all be excited about since Kaitlin Olson's funniest bits on It's Always Sunny In Philadelphia have come when she is vehemently arguing a point that we all know is wrong.
Deb/Flo
Another Finding Nemo character that is returning to the fold for Finding Dory is Deb, who is the four-striped damselfish that previously shared the fish tank with Nemo and Gill in the original film. Of course, Deb doesn't just come by herself, and once again she'll be joined by her sister Flo. Who also happens to be her reflection. Both Deb and Flo will be voiced by Vicki Lewis, whose name you probably don't recognise but just one look at her face will instantly remind you that she's been part of Newsradio, Curb Your Enthusiasm, How I Met Your Mother, and a myriad of other sitcoms and films. Why, alongside Nemo, are Deb/Flo and Gill the only survivors from Finding Nemo's tank posse? We still don't know. Maybe Gill and Deb/Flo are romantically involved. But if that's the case then it only throws up a mountain of further questions about their relationship. It's probably best to just wait and see.
The Mysterious Wire Reunion
There's one more further television connection to Finding Dory that Wire fans are still dying to know more about: What the hell are Idris Elba and Dominic West doing in the sequel? We're still completely in the dark over whether they're reprising their characters, Stringer Bell and Jimmy McNulty, respectively, or if it's just a huge coincidence. The fact that Disney/Pixar announced that Idris Elba and Dominic West would be involved in Finding Dory in the same statement has led some to suggest that their inclusion will be linked to the hit HBO show, while their subsequent silence has only increased this speculation. But even though it would, admittedly, be awesome, I can't see how these worlds could merge. So, my current belief is that they'll be playing human characters that work at the Monterey Marine Life Institute, as the film is in scant supply of those at the moment. Either way, expect plenty of Easter Eggs to The Wire to be hidden in the final film.
The Director
This is the best news I could possibly bring you regarding Finding Dory. When the sequel swims back into theaters, Finding Nemo director Andrew Stanton will be at the helm. Why is this so important? Because Stanton is one of then original Pixar masterminds, a storytelling genius whose fingerprints are all over all of the early Pixar masterpieces. As a director, he helmed both Nemo and WALL-E, which I personally consider to be the studio's finest film. Bringing him back suggests that the sequel will not be a lazy cash grab. And after Stanton left Pixar to explore live action (with John Carter), I feared he might not be back. The sequel's in fantastic hands if Stanton is guiding the Finding Dory ship. And even though he's been joined by co-director Angus MacLane, it's probably safe to assume that Stanton is the one helping to guide Finding Dory to completion.
The Sea World Change
It's probably a good idea that it has taken a while for Pixar to develop and animate Finding Dory, because real-life issues led to a crucial change in the movie's ending. From what we were told, the original conclusion to Finding Dory was going to be set in Sea World (or, a Sea World type facility). Then, following the events depicted in the controversial documentary Blackfish, Pixar decided to change it, completely rewriting the ending to avoid pushback. Because it's animation, this is slightly easier than changing the ending to a live-action film. What did they come up with though? Well, Ellen DeGeneres has already given us a hint, revealing at the D23 Exposition in the summer what she wants Pixar fans to take away from the film. "I think that fish should be in the ocean," Ellen DeGeneres insisted at the event. "It's what the whole sequel is about: It's about rehabilitation and putting them back in the ocean … And we have to protect our oceans. Hopefully that discussion starts with this film, because we really need to protect that environment." We will find out if Pixar's Finding Dory can start this debate when it opens in theaters on June 17, 2016.
Your Daily Blend of Entertainment News
Sean O'Connell is a journalist and CinemaBlend's Managing Editor. He's frequently found on Twitter at @Sean_OConnell. ReelBlend cohost. A movie junkie who's Infatuated with comic-book films. Helped get the Snyder Cut released, then wrote a book about it.
Your Daily Blend of Entertainment News
Thank you for signing up to CinemaBlend. You will receive a verification email shortly.
There was a problem. Please refresh the page and try again.