Liam Neeson And Bono Want To Make This Story Into A Movie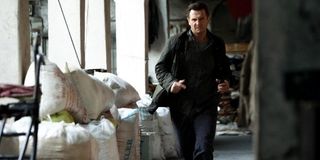 Liam Neeson has revealed that he's been developing a movie script with U2 front-man, Bono, for half a dozen years.
Neeson made the shock announcement during an interview with The Independent, while he also revealed that their script has been inspired by the Irish show-band phenomenon of the seventies. For the uninitiated this was when groups toured around the nation performing cover versions of hit songs. However he failed to provide too many more details on their project. Partway through their discussion the topic was turned to Neeson's celebrity pals, and when it was brought up that Bono was one of them, the Taken actor suddenly proclaimed, "We chat, or with him a lot of the time I just listen. He's a wonderful man. He's got an idea for a script which we've been working on for the past six years."
It's still not known if either the Sunday Bloody Sunday singer or Neeson will take up roles in the film, but let's hope that they ultimately decided to go through with the project. In fact, when you consider that they've been working away on it for several years it should, really, be close to completion by now. Maybe Bono should stop concentrating on polluting people's iPods and open up Final Draft a bit more; then he might have finished it.
Neeson also noted in the interview that he regards Ralph Fiennes as one of his "closest friends" and that the duo have even done yoga together, but they mainly "hike and walk and talk a lot." Does this mean that Fiennes will be taking the lead in Bono and Neeson's cinematic musical journey through 1970's Ireland? Who knows, but if he does it would be the most intense movie ever created. Surely they'd have to throw some comic relief in there, just to give audiences a break! Chris O'Dowd I'm looking at you.
Elsewhere in his chat with the English broadsheet, which he conducted to promote A Walk Among The Tombstones, Neeson noted how the action genre has evolved over the years. "Action heroes used to be for much younger men, but now I get all these scripts where it's 'Scratch 35 and now it's 60'," the 62-year-old star of Taken, Taken 2 and Non-Stop declared. However he made sure to distance himself from The Expendables franchise, insisting that he is still too young to join up with Sly Stallone, Jean Claude-Van Damme, Harrison Ford and Mel Gibson. "No, they haven't asked me. I don't know if that's a good or a bad thing," he noted. A bit of both, I'd say Liam.
Written by Scott Frank, whose previous credits include Out Of Sight and The Wolverine, A Walk Among The Tombstones once again sees Neeson on the prowl with a weapon in his hand. This time he's an NYPD cop and private investigator by the name of Matthew Scudder who is hired by Dan Stevens' drug dealer to help find the killer of his wife.
Your Daily Blend of Entertainment News
Thank you for signing up to CinemaBlend. You will receive a verification email shortly.
There was a problem. Please refresh the page and try again.