Ralph Fiennes On The Contradictions In His Grand Budapest Hero, And What He Snagged From The Set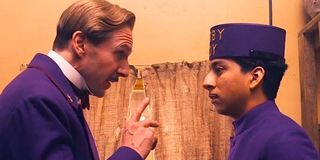 Watching the films of Wes Anderson, its easy to get sucked into their pastel-colored worlds where people are childish yet intellectual. Well, in his latest, The Grand Budapest Hotel, the imaginative writer-director built the entire fictional nation of Zubrowka. There in the titular resort, the taciturn yet tender Gustave H rules, a concierge of great class and crassness who gets entangled in a tale of intrigue when one of his many lovers dies in mysterious circumstances. Under suspicion, he must depend on his ever-faithful lobby boy Zero to aid him in clearing his name.
When Anderson wrote the role of Gustave H, he had only one actor in mind: the internationally acclaimed Ralph Fiennes. The English thespian has earned Oscar nominations for celebrated dramas like Schindler's List and The English Patient. He became an icon as the vicious Lord Voldemort of the Harry Potter movies. Now, for his first endeavor with Anderson, he takes on a character who is full of contradictions, and absolutely affable.
You can get some sense of Gustave in this charming clip from The Grand Budapest:
Last week, I had the good fortune to sit down with Fiennes to discuss his work in Grand Budapest Hotel, and his inspirations for his portrayal of Gustave H. During our talk, Fiennes admitted he'd spent a great deal of time figuring out the untold backstory of this eccentric concierge. And then he delighted me by breaking into the character right before my very eyes!
Watch it all below:
"Comedy is full of contradictions in characters lurching without hardly any space and no obvious psychological coherence from one thing to the next," he told me, "Actually, that's more like life I think. I think sometimes the trick is to just do it. And too much analysis doesn't help you, you just got to go one minute up there, the next minute down there. That contrast has in it potential to be funny."
In working on his character, Fiennes wrote what he called "a little autobiography of Gustave." He'd forgotten some of its details, but smiled at the thought of it. Then we discussed the consummate concierge's bond with his lobby boy, Zero (Tony Revolori). In the film, Zero is a young man with no home or family and an earnest dedication to The Grand Budapest and Gustave. Their relationship is the one that defines the film. Asked what sparks their bond, Fiennes offered:
For my final question, I had to ask if Fiennes has carried away any bit of The Grand Budapest's elaborate world with him. He did. Fiennes kept the little ring that Gustave wears and cherishes, a memento of his time in Zubrowka and its most glamorous resort.
The Grand Budapest opens March 7th. Look for more about the film this week, including our video interviews with Tony Revolori, Saoirse Ronan, Willem Dafoe and Jeff Goldblum.
Your Daily Blend of Entertainment News
Staff writer at CinemaBlend.