Liam Neeson Will Fight Terrorism In His Next Movie, Also Probably Kill People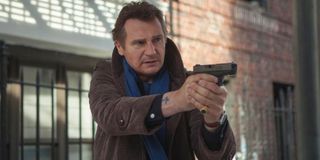 It appears that neither Hollywood nor the movie-going public that it serves has yet to tire of films featuring the unstoppable allure of Liam Neeson as he violently dishes justice to the rambunctiously wicked. Cementing this idea, Neeson is apparently locking down a role in which he plays… get ready for this… a C.I.A. agent! However, rather than his repertory rescuing of kidnapees, it seems that Neeson's character has been tasked with stopping a terrorist attack.
According to The Hollywood Reporter, Liam Neeson is in negotiations to star in an upcoming action thriller called, A Willing Patriot. In the film, Neeson's character, a C.I.A. agent with a dark past looking to risk it all for redemption of some kind, finds himself in a contentious cat-and-mouse game with a cunning terrorist who threatens an imminent attack. As far as Neeson's cinematic wheelhouse as of late, this one seems to be firmly located in the very foundation.
That generic plot description is momentarily the extent of what is known about the A Willing Patriot's plot. However, the real story for now rests with the up and coming creative forces currently looking to bring the story to life. The film will be directed by Martin Zandvliet, who is currently gaining acclaim for his upcoming wartime film, Land of Mine. In that film, a group of young German POW's, reviled by their captors, are sadistically subjected to the arduously perilous task of digging up some 2 million landmines with their bare hands. While that film won't see release for a while, the provocatively premised picture seems to have seriously impressed insiders. In fact, Marc Butan, the head of its financing studio MadRiver Pictures told THR that Zandvliet is "an incredible storyteller and the perfect match to collaborate with Liam."
Additionally, A Willing Patriot will work off a script by Jason Keller, who wrote one of two live-action takes on the Snow White story that managed to get released in 2012 – specifically Mirror Mirror with Julia Roberts and Lily Collins. Yet, in a stark genre contrast, Keller also penned the script to the 2013 Sylvester Stallone/Arnold Schwarzenegger team-up, Escape Plan. Thus, the team-up of Keller, a burgeoning Hollywood writer and the direction of Zandvliet, a Danish filmmaker relatively unknown, seems somewhat of an unlikely a pairing. That being said, with the idea of Neeson hoping on board to use his "particular set of skills" on some shadowy dispensers of deadly deeds, this wheel of a film may not necessarily have to be reinvented radically.
Clearly, based on the description of A Willing Patriot, the prospect of any kind of new ground being broken in the action-thriller genre seem as unlikely as Neeson's Star Wars character, Qui-Gon Jinn coming back in The Force Awakens to teach Jar Jar Binks how to turn himself into an annoyingly loquacious Jedi spirit. However, for a director untested in the mainstream as Zandvliet, it represents a unique opportunity. He could take a job that likely only called for an unknown, easily-replaceable pulse to fill the director's chair while Liam Neeson dominates evildoers into a possibly eye-opening moment for his career.
Your Daily Blend of Entertainment News
Thank you for signing up to CinemaBlend. You will receive a verification email shortly.
There was a problem. Please refresh the page and try again.