Lindsay Lohan Recreates Monroe Photo Shoot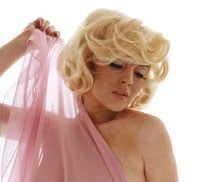 Lindsay Lohan has re-enacted a classic Marilyn Monroe photo spread with photographer Bert Stern for New York Magazine. Conveniently the spread is modeled on one in which Monroe posed nude but for a well-placed diaphanous sheet, at the Hotel Bel-Air for the same Bert Stren. Lohan attempts to fill Monroe's large shoes with the addition of a blonde wig and very little else, prompting news headlines like LINDSAY LOHAN GOES NUDE. In the accompanying article, Lohan comments on the way Hollywood destroys its most luminous starlets ala Norma Jean and how she will not let it happen to her. I could make a comment along the lines of "I knew Marilyn Monroe, Lindsay. Marilyn Monroe was a friend of mine," but of course it's cliché. Sadly, something must be said about photographic copycatting phenomenon.
Lohan's meta-impersonation is nothing new. She is joining in a long line of big stars that have posed for glossy recreations. In this month's Vanity Fair Naomi Watts, Keira Knightley, Gwyneth Paltrow, and Javier Barden among others appear re-enacting scenes from classic Hitchcock films. Coincidentally, the issue also features an advertising spread from Disney with Jennifer Lopez and Marc Anthony doingAladdin, Jessica Biel as the whitest Pocahontas there ever was, and (horrifyingly) Mikhail Baryshnikov gliding through Giselle's Bündchen's window as Peter Pan. It is too obvious to say that classic images are classic for a reason and that maybe this dewy aping of them is diminishing their luster, rather than buffing it? I mean, Seth Rogen subbing for Carey Grant in North by Northwest? Are you kidding me?
Your Daily Blend of Entertainment News
Thank you for signing up to CinemaBlend. You will receive a verification email shortly.
There was a problem. Please refresh the page and try again.