The A-List Actor Minions 2 Wants To Play Its Villain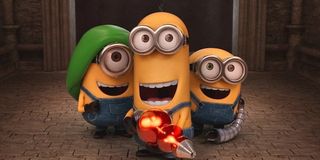 If you've been keeping up with the current state of the box office, you're well aware that Illumination Entertainment and Universal are presently raking in money hand over fist with their animated Minions. At this rate a sequel is all but guaranteed, and as it's never too early to start the dream casting process, the filmmakers have one big time name at the top of their list to play the villain in Minions 2: Chris Pratt.
Talking to The Shuttle about the Despicable Me spinoff, animator and producer Chris Renaud was asked, what actor, in a dream scenario, he would like to lend his voice the antagonist of Minions 2. He said:
This is, obviously, not official in any kind of way, and no one is meeting with the Guardians of the Galaxy and Jurassic World star about this, though stranger things have happened. They did, after all, get Sandra Bullock to voice the villainous Scarlett Overkill in this film.
Even if Renaud does somehow magically wind up snagging Chris Pratt, he may have to fight to get there. Fellow producer, Chris Meledandri, has another name at the top of his villain list: Robert Redford. Meledandri said:
But this is all a long way off in the future. Before we even get to see more from the early days of the mischievous yellow troublemakers in Minions 2, they'll once again team up with Steve Carell's Gru for Despicable Me 3, which is slated to hit theaters in the summer of 2017.
In the meantime, however, as Renaud, Meledandri, and more kick around ideas for potential sequels, Minions is already a massive hit. During it's opening weekend in the U.S. it took the top spot at the box office with $115 million, which is bigger than any other animated debut aside from Shrek the Third, and notably higher than Inside Out's $90 million last month, though the Pixar movie is on track to be one of the top five earning movies this year.
Early estimates had the film topping the billion-dollar mark, and with an additional $287 million from international markets, it is already well on its way. Reviews haven't been great, which could impact the longevity of the film, but they certainly haven't dampened public enthusiasm on iota.
Your Daily Blend of Entertainment News