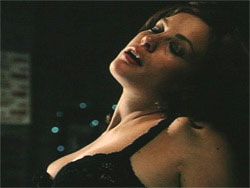 Marvel's remake of the Hulk movie Ang Lee made just four years ago is really putting together an impressive cast. It may end up being even more star-studded than the first Ang Lee version, which if you think about it, is kind of weird. Ang Lee had Eric Bana and Jennifer Connelly. The new version, The Incredible Hulk has Edward Norton and now Liv Tyler.
Yep, everyone's favorite Elf princess has just joined the cast. The Hollywood Reporter says Liv Tyler has signed on to The Incredible Hulk to star opposite Edward Norton as Bruce Banner's longtime love interest Betty Ross. Except when Hulk: The New Batch begins, they won't be hooked up. The film will start with Ross and Banner estranged, and Banner on the run looking for suitable anger management. With Banner looking for a place to hide Betty gets swept back up into his life and presumably into his tattered purple pants. Hopefully his gigantism only applies to body parts above the waist.
Since her high-profile role as Arwen in Lord of the Rings, Liv's career has sort of taken a backseat. She had a big role in the unfairly panned Kevin Smith flop Jersey Girl and a small part in the Don Cheadle/Adam Sandler movie Reign Over Me, but otherwise Liv has stayed out of the limelight. By taking a big part like this one, maybe it means we'll see more of everyone's second favorite Tyler in the future. It may be time for me to resurrect my Liv lust.
Your Daily Blend of Entertainment News