The Lone Ranger Gets New Release Date, And Thor 2 Is Shifted To Thanksgiving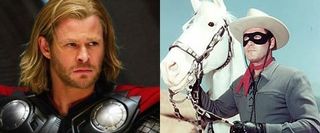 We speculated yesterday, when news broke that Johnny Depp's The Lone Ranger was finally ready to go back into production, that the planned release date of December 21 next year would almost definitely have to change. Production on The Lone Ranger is set to start February 6, and now THR reports that The Lone Ranger has indeed gotten a date shift. Disney has pushed that film to a May 21, 2013 release date, and as a result now plans Thor 2 as a holiday season release for that year, coming November 15 instead of July 26 in 2013.
It's the Thor date shift that seems most striking to me-- you can launch a franchise whenever you want, but once you've got an ongoing property you generally want to keep it in the same time frame. And superhero movies, with very rare exceptions, have always been the province of summer-- all of the Spider-Man movies came out in May, every Batman movie until The Dark Knight came out in June, Transformers movies had July 4th weekend, and so forth. And last summer Marvel kind of crowned itself the king of the entire summer, releasing Thor in May and Captain America July. Next summer they'll top it off with The Avengers in May, and then totally change it up by pushing their next film, Thor 2, to the fall.
It's not necessarily a devastating decision-- movies can be hits whenever they please, and the Thanksgiving release period is almost as high-profile as early summer. But is it too much to ask for a little consistency here? if you build a franchise, you build in with it a sense of timing, so that when Fourth of July rolls around, you feel a Pavlovian impulse to see robots smash each other. I was totally ready to expect more Asgardian mayhem come summer 2013, but now I have to adjust it to sweater weather instead.
Staff Writer at CinemaBlend
Your Daily Blend of Entertainment News
Thank you for signing up to CinemaBlend. You will receive a verification email shortly.
There was a problem. Please refresh the page and try again.