Louis Leterrier Will Destroy The World In G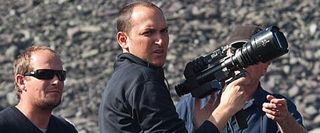 When Louis Leterrier signed on last week to direct the magician heist thriller Now You See Me, I hoped it meant the Clash of the Titans director would be moving away from bloated big-budget stuff and back to rawer, weirder stuff like the Transporter films that made his name. Turns out I'm getting what I wished for and even more. As soon as he's done with Now You See Me-- which is about magicians who perform bank heists during their performances, mind you-- Leterrier will be moving on to G, which, amazingly, is described as "The Day After Tomorrow meets Taken."
That description comes from THR, and they aren't saying much more about it because basically right now it's just an idea, from the mind of producer Guymon Casady; they're looking for screenwriters to tackle it right now. It's almost definitely the project we heard about last fall, when it was titled Gravity and described as a film about what happens when the earth stops spinning and falls into a state of zero gravity. The main characters are charged with hunting down a lost child, which sounds like where the Taken part comes in.
Yes, it's kind of artistically bankrupt to make a movie based entirely around an idea from a producer, who wants to make money above all else, but somehow this is an idea that seems tailor-made for that. In the way that 2012 was nothing but Roland Emmerich's attempt to cram as much popcorn-munching world destruction into a single film as he could, this movie seems like an effort to lull the audience with explosions and action and gunfire-- and I'm all for it. Even if it's just as bad a movie as Clash of the Titans, it at least sounds more original, and maybe more ambitious in its craziness.
Now You See Me is Leterrier's next film, but it's conceivable the G production could start not that long from now. With Roland Emmerich moving on to his mysterious Shakespeare movie Anonymous and putting off Independence Day 2, this might be our only chance for awesomely dumb world destruction. You know you're ready for it.
Your Daily Blend of Entertainment News
Staff Writer at CinemaBlend