Will Luc Besson Make The Professional 2?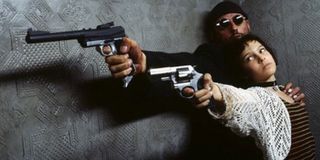 French filmmaker Luc Besson has won fan-adoration for his sexy thriller La Femme Nikita and his sprawling science-fiction adventure The Fifth Element. But it's The Professional (A.K.A. Leon: The Professional) that is generally regarded as his best, most beloved offering. Like so many things fans can't get enough of, there's been speculation about a potential sequel to The Professional for years. But what does Besson say about this possibility? The answer might surprise you.
While doing the press rounds for his upcoming female-fronted thriller Lucy, Luc Besson was asked directly by JoBlo about the possibility of a Professional sequel that would center on the Mathilda character originally played by a young Natalie Portman. To this, Besson responded:
WARNING: Spoilers for The Professional below.
Of course fans of the original might well sneer at a sequel as its titular anti-hero dies in the final act. Without Jean Reno's Leon, The Professional 2 could focus on Mathilda's journey.
By the end of The Professional, Mathilda is an orphan, her parents and siblings murdered by Norman Stansfield, the crooked DEA agent played with crazy-eyed perfection by Gary Oldman. Leon kills Stansfield--and vice versa--in the movie's climax, while twelve-year-old Mathilda flees the scene, carrying Leon's beloved houseplant with her. In The Professional's final sequence, Mathilda tries to go pro with Leon's boss Tony, who instructs her to forget everything and go somewhere safe. She heads to a boarding school where she unfolds her whole story to the headmistress before giving Leon's plant a new home on the school's lush grounds. Symbolically, the planting of the plant could suggest that this too is the end of Mathilda's tale. She--like the long wandering plant--has found a place to put down roots.
While part of me would be eager to see how a Mathilda movie would develop her story, typically a sequel means the happy ending (or in this case deeply bittersweet ending) the first film promised must be compromised to extend the narrative with new conflicts, enemies, and drama. I love The Professional, but frankly I have no interest in seeing a franchise spawn from it, especially when its best character is already gone.
Thankfully, it seems Besson--for all his bizarre choices (The Family anyone?)--has no interest in a cheap sequel. While he won't close the door completely to the possibility--backpedaling immediately after his "too late" pronouncement--he seems dedicated to only revisiting the world of Mathilda and Leon if he has a great concept for a sequel, not just a downturn in his bank account. This news makes me feel like...
Lucy opens Friday.
Your Daily Blend of Entertainment News
Staff writer at CinemaBlend.
Your Daily Blend of Entertainment News
Thank you for signing up to CinemaBlend. You will receive a verification email shortly.
There was a problem. Please refresh the page and try again.