Mad Max: Fury Road Gets An Awesome 80s Style Trailer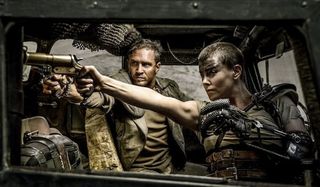 Stylistically, George Miller's Mad Max: Fury Road may not be super '80s, but with the franchise's roots in the decade of excess, there's definitely an indelible connection. And we're not the only ones who know this, as this new video, done up in a retro grindhouse manner, gives the latest post-apocalyptic adventure a stylistic makeover.
Hailing from the Playback Collective, this revamped trailer is a damn near perfect approximation of exactly the kind of promotion Fury Road would have received back in the day. As you saw the film in theaters (if you haven't, you should, it will likely stand as the best action movie of 2015), you know that the look is sharp and bright and vivid. Here, however, it gets a gritty wash, grainy and streaked, like the film has been run through the projector countless times.
The musical selection, Power Glove's sweet jam "Vengeance," is an ideal choice, full of throbbing synth beats and soaring, tinny notes. Even the editing is spot on, with those quick match cuts. In this context, all of Miller's quick zooms and pushes really have a very era-specific feel, and when you couple that with the voiceover that sounds vaguely garbled and like it was recorded on an aged cassette tape, the whole package captures the early '80s exploitation aesthetic.
And though none of the Mad Max films had even a remote connection to the company, that Cannon Films logo splashed across the screen at the beginning is just the cherry on top of this delicious action sundae. Fury Road would certainly have been a different film had it been produced in an earlier era, but as you can clearly see from this little experiment, all of the touchstones are still there and in play, which is probably why it was so satisfying to so many fans of the original movies.
Despite what has been a disappointing, or at least less massive than hoped for box office showing (it's currently at $115 million domestically, and $280 worldwide, against at least a $150 million budget; and it got dusted by Pitch Perfect 2 during its opening weekend), George Miller hasn't been shy about talking about the future of the Mad Max franchise. The film has received heaps of critical praise, and according to Miller there are more chapters in the wasteland saga of Tom Hardy's Max Rockatansky in store for fans. In fact, the next film, should such a thing come to pass, already has a title, Mad Max: Wasteland, which, while not super original, definitely fits the bill.
We'll see how this all of this plays out as Mad Max: Fury Road continues to chug along at the box office. It does appear to have decent legs, so it's entirely possible it could wind up making enough money to justify a sequel to Warner Bros. And we certainly hope so, as we're totally down to see more action like this on the big screen.
Your Daily Blend of Entertainment News
Thank you for signing up to CinemaBlend. You will receive a verification email shortly.
There was a problem. Please refresh the page and try again.