Mad Max: Fury Road Headed In For Reshoots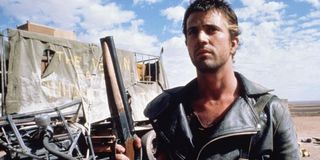 Sometimes movies go into production and loom so large in the media and in fan's imaginations that it seems impossible you'll ever stop hearing about them before they open in theaters… and then, somehow, they disappear entirely. It's especially rare in this day of age of websites like, uh, this one, which doggedly track even tiny developments on high-profile films. Which is why the silence surrounding Mad Max: Fury Road has been so mystifying. Production was underway in Namibia as of January of this year, with Tom Hardy and Charlize Theron leading the cast. But since then…. nothing, not even a release date or official still. Now it seems the movie might need even more tweaking before it's ready to show it's face to the world.
Coming Soon picked up on a report in the Australian trade publication IF that Fury Road is going back in for three weeks of reshoots, set to begin in Sydney on November 22. The reshoots will be the first time the production has moved to Australia, even though all of the original, Mel Gibson-starring Mad Max films were shot on location there. The crew is putting out the call for extras and other non-speaking roles for people with "odd, idiosyncratic faces," along with the slim build that you'd expect from people barely surviving in a post-apocalyptic world. IF believes that some of the ensemble cast has been called back as well, but until we spot paparazzi photos of Theron or Hardy on set, we may not know for sure exactly who comes back.
As we say over and over again, reshoots aren't necessarily a sign that a film is in trouble-- plenty of times they serve as a sign that a studio has noticed a place where a film can be stronger and is actually willing to spend the money to make it better, rather than just make do with what they've got. And even on blatantly troubled productions, the end result can still turn out OK. But Mad Max: Fury Road has been having an especially hard time making it to the screen, with director George Miller actively working to get it made for nearly a decade now. Theron and Hardy were cast way back in 2009, but natural disasters and other delays kept production from beginning until last summer, and even then there were rumors of trouble. Warner Bros. studio head Jeff Robinov had visited the set, reportedly come back with concerns, and assigned producer Denise Di Novi to oversee the Namibia production.
Robinov has since departed Warner Bros., and there's a nasty tradition in Hollywood of the new executive-- that would be Kevin Tsujihara-- tanking the previous exec's pet projects. We have no information on whether or not that's happening on Mad Max: Fury Road, and again, a production that big going back in for reshoots is not all that uncommon. But we've spent years worrying about this project's potential… and those worries aren't going anywhere, no matter how helpful those reshoots might turn out to be. It could be another World War Z situation… or it could be one of many recent, big-budget projects that gets tinkered to death but never saved. If Fury Road ever sets an actual release date, we'll know when we can find out for sure.
Staff Writer at CinemaBlend
Your Daily Blend of Entertainment News
Thank you for signing up to CinemaBlend. You will receive a verification email shortly.
There was a problem. Please refresh the page and try again.