Mad Max: Fury Road Pics Show Off A Crazy, Badass Tom Hardy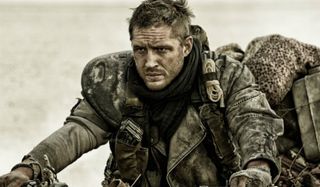 Everything we've seen so far on Mad Max: Fury Road has us even more excited for the return of this infamous cinematic hero, and we're pumped that Tom Hardy is the one leading us on this next adventure. After that mind-blowing trailer, we're now treated with a couple new images from the film, thanks to the latest Empire magazine covers.
It's been a long time since Mad Max: Fury Road first started production, and Empire's latest issue will take a deep, deep dive into the making-of process with the franchise's director George Miller. Accompanying the feature are two images from the new installment, featuring our Hardy boy front and center. While the first look tickles us with Bane himself staring into our very souls, the second is, frankly, a Photoshop nightmare. Whoever created that hot mess should have taken a hint from any of the worst movie posters of 2014, especially those god-awful ones for Exodus: Gods and Kings. Heck, Entertainment Weekly's cover was better than this display.
To play devil's advocate, though, any new look at Mad Max: Fury Road is a good look. We're still re-watching the latest trailer -- which, by the way, was one of the best movie trailers of the entire year -- and listening in awe as it perfectly utilizes Verdi's heart-pumping Requiem amidst some pretty stellar car battles and an ominous sand vortex. It also flaunted the head-shaved and bionic-armed Furiosa (Charlize Theron) and the skeletal Nux (Nicholas Hoult), both of whom Max encounters as they flee across the apocalyptic Wasteland from a tyrannical warlord and his funky-looking minions.
Seasoned movie buffs have been a fan of the Mad Max franchise since it first kicked off with Mel Gibson back in 1979, and we can only hope Fury Road will strike a similar chord with the younger generation. Theron and Hoult will hopefully assist its cause, but it would be a shame if this sci-fi hero fell into the shadows of cinematic history. So far, though, it doesn't look like this will happen. Warner Bros. is doing well to market the film, which will be released in theaters on May 15. There's also a new video game coming in a few days on December 31, and it'll no doubt bust open this world like never before. By the time next year rolls around, we're hoping Groot and Rocket will be replaced with Mad Max!
Your Daily Blend of Entertainment News
Thank you for signing up to CinemaBlend. You will receive a verification email shortly.
There was a problem. Please refresh the page and try again.