Mad Max Warboys Are Giving Rides Around A Major U.S. City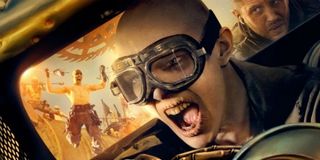 Mad Max: Fury Road was the surprise gem of the summer movie slate, thanks in large part to Charlize Theron's Furiosa, the incredible direction from George Miller, and, of course, those Warboys. To keep the momentum going and to celebrate the release of the new Mad Max DVD (and subsequent video game), Warner Bros. partnered with Uber in Seattle to offer customers the post-apocalyptic car ride of their lives.
The Mad Max DVD hits shelves tomorrow, September 1, and Uber has a wild and crazy promotion — the car service has enlisted the aide of the Warboys from the film and game to ferry passengers around downtown Seattle. According to Uber's website (opens in new tab), the Wasteland is vast and gas is precious, so the Warboys must stay close to their Stronghold.
It all began on Friday, August 28, and it comes to an end today, August 31, but Uber users in the area have been posting photos of their badass rides.
As you can see, the vehicles ranged in size and the drivers ranged in crazy — one of them even looked like a gold version of Nicholas Hoult's Nux.
Unfortunately, none looked like that deadly mobile porcupine racer. Apparently, some rides are too dangerous for Seattle.
Fury Road continued the cinematic world of Mad Max, as begun with the Mel Gibson-led films. Tom Hardy of The Dark Knight Rises succeeded the actor in the title role, while Holt and Theron stole the show many times over. The film focused on Max's encounter with Furiosa, a warrior with a bionic arm attempting to smuggle away the abused wives of a tyrant, Immortan Joe. The Warboys were members of Joe's army who were enlisted to track down the escapees and bring them down. What ensued was a high-octane car chase across the desert in a post-apocalyptic wasteland.
The new Mad Max video game will further expand this story. The new enemy is Scrotus, the overlord of the Wasteland where Max is stranded and left for dead after a battle with marauders. The ultimate goal is to travel around this God-cursed landscape to gather fuel and spare parts to create the ultimate vehicle and your means of leaving this hell hole behind.
If you happen to be in or around Seattle today, take advantage of the Mad Max promotion while you still can!
Your Daily Blend of Entertainment News
Thank you for signing up to CinemaBlend. You will receive a verification email shortly.
There was a problem. Please refresh the page and try again.