Tom Hardy Shoots Down A Reporter's Notion That Mad Max Is A Man's Movie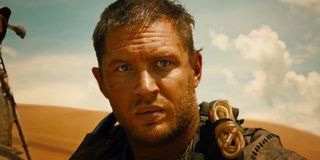 Tom Hardy doesn't look like the kind of man who suffers fools. So, earlier this month, when he was asked during the press conference for Mad Max: Fury Road at the Cannes Film Festival whether he thought the gorgeously hectic blockbuster was a "man's movie," Hardy gave a delightfully biting response.
The unfortunate soul who was on the end of Tom Hardy's brief but emphatic put-down was film critic Peter Howell, who scribes for the Toronto Star. According to The Mary Sue, Howell asked Hardy if he ever got the impression that George Miller's post-apocalyptic nightmare of a movie was off-kilter because it had several female characters propping up what Howell envisioned as "a man's movie." Unfortunately for Howell, his poorly worded query was instantly met with a disdainful response from pretty much the entire Mad Max: Fury Road crew. Hardy, however, jumped on the grenade and took it upon himself to declare:
However before the entire room turned around in unison and pointed and laughed at Peter Howell for his question, Hardy added a crucial point of saying that if he preferred ANYTHING different out of Mad Max: Fury Road, it would have been a script. As George Miller himself has pointed out, he often relied on extensive storyboards rather than a script, and Hardy would have changed that.
To be fair to Howell though, the journalist has since issued an apologetic statement via BuzzFeed for the wording of his question. Peter Howell wrote:
You an see the interaction in full near the 10-minute mark here.
Those of us who have seen Mad Max: Fury Road will be fully aware of just how subtly empowering the blockbuster is for women. Rather than focusing on the feminism of its characters, especially Charlize Theron's Imperator Furiosa, Mad Max: Fury Road just lets them get up to their jobs at hand, each of which they excel at in a thoroughly rollicking fashion. Mad Max: Fury Road is still in cinemas, and it is not only already one of the best movies of the year, it's one of the most original, enthralling and astounding blockbusters ever created.
Your Daily Blend of Entertainment News