Mad Men's Abigail Spencer Is Tom Hardy's Ex In This Means War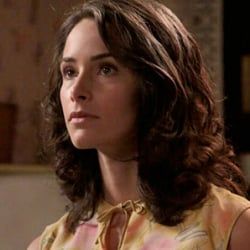 Abigail Spencer's character Miss Farrell was a low point of last season's Mad Men for me, marking the last extramarital affair Don Draper would have and the one with the least logic. What did he see in that naive hippie? Why wouldn't he just get it together and run back to Rachel Menken? These are the questions we Mad Men fans ask ourselves in between seasons, and believe me, it's torturous.
Anyway, Spencer has managed to move on from her irritating character to great fame and fortune, snagging a role in Jon Favreau's Cowboys & Aliens and now, according to THR, signing on to McG's This Means War. In the action comedy about two rival spies (Chris Pine and Tom Hardy) who spar over the love of the same woman (Reese Witherspoon), Spencer will play the ex-wife of Hardy's character. It's unclear if she'll be a spy herself or just more of a background figure, but given that her name is significantly less famous than the rest of her co-stars, she's presumably just glad to be in there at all. Best of luck to her, especially if she leaves Miss Farrell's Bowdoin running clothes behind.
Your Daily Blend of Entertainment News
Staff Writer at CinemaBlend