A Major Awards Group Just Went Back And Added Star Wars To Its Best Picture Nominations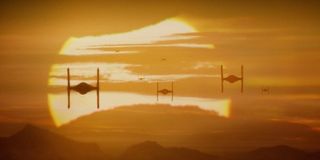 As the end of the year approaches, every group of critics, professional guild, and numerous other collections of folks who like movies get together and vote for what the members think is the best of the year. As each group wants to garner as much attention and as wide a reach as possible, the voting deadlines are getting earlier and earlier every year. This proves to be a problem as numerous high-profile awards contenders often don't open until the tail end of the calendar, but one faction has bent their own rules a bit, adding one big latecomer to their Best Picture race: Star Wars: The Force Awakens.
Despite not being screened for their members in time to make the initial round of nominating votes, the Broadcast Film Critics Association announced that they are adding Star Wars: The Force Awakens to the Best Picture category for their upcoming Critics' Choice Awards.
The BFCA is one of the biggest groups, and the Critics' Choice Awards are rather prestigious, so they usually manage to get their members screeners for just about everything in advance, regardless of release date. Given the strict secrecy surrounding The Force Awakens, however, that wasn't possible. But after members finally did see the film, there was a special referendum held yesterday and it was decided to add the seventh Star Wars film to the party.
This means that instead of ten candidates for Best Picture, there will now be eleven choices for BFCA members to choose from. While this is not exactly business as usual, such a move is not entirely unheard of for the group. Back in 2000, Robert Zemeckis' Tom Hanks-starring Cast Away, a movie that seemed primed for awards consideration, had a similar situation and didn't screen early enough for consideration in the nomination phase. But due to a similar injunction, it, too, was included in an eleven-film Best Picture race.
The group's mission is to "honor the finest in cinema and television," and they said such exceptions only further this aim. They also note that the Critics' Choice Awards are often one of, if not the most accurate indicator of how films will perform when Oscar comes calling.
To be honest, I'm a bit surprised that more groups don't make similar exceptions by allowing some latecomers to get in on the fun. This year alone, a bunch of potential players like The Revenant, The Hateful Eight, and Joy are popping up late in the game. Though these and others have screened in some cities and for some groups, others have been left out in the cold.
We'll see if Star Wars: The Force Awakens walks away with any new hardware when the 21st Annual Critics' Choice Awards are revealed on January 17. Even if it doesn't win anything, given the staggering amount of money it's already earned, I don't think Disney will mind.
Your Daily Blend of Entertainment News
Thank you for signing up to CinemaBlend. You will receive a verification email shortly.
There was a problem. Please refresh the page and try again.