Making Kill The Messenger Taught Jeremy Renner Journalists Aren't Always The Enemy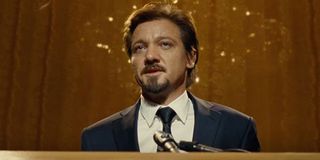 Jeremy Renner has played assassins, slick spies, super heroes, steely soldiers and even witch hunters. But for his latest, The Avengers' star is playing a gruff but principled journalist in Kill The Messenger.
Based on the tragic true story of news reporter Gary Webb, Kill The Messenger explores shady U.S. government dealings that essentially allowed huge amounts of cocaine to pour into America. It's a story that should have rattled the nation and forced major investigations and change. But instead, the government and major media outlets made Webb--and his less than stellar past--the story, destroying his credibility and career.
Renner not only stars as Webb, but as its producer helped wrangle an incredible cast that includes Michael Sheen, Ray Liotta, Andy Garcia, Rosemarie DeWitt, Paz Vega, Barry Pepper, Lucas Hedges and Michael Kenneth Williams. I had the pleasure to speak with Renner and Williams, and amid updates on Hansel & Gretel: Witch Hunters 2, The Purge 3, as well as the latter's Marvel history and future aspirations, we dug deep into Kill The Messenger.
Kill The Messenger changed how Renner viewed journalists. Considering the massive franchises the star has been a part of, he's had his share of rough run-ins with reporters. Yet playing Webb gave Renner a new empathy for them. "It's made me more conscious and aware of the plight of journalists and realize that we're kind of on the same side," He explained. "I think that journalists and myself have the same frustrations of the state of media and sensationalism…You can put together a great piece of investigative reporting, but you know, nude leaked celebrity photos kind of take much more precedence. It's really kind of frustrating. It's a sad state of where we're at socially. You really can't blame media. So, these sort of things, I'm much more sensitive to that."
Affecting a curious tone he added, "'Oh wait,' I always thought, 'journalists were the enemy and vampires, fucking hate them.' But it's like, 'Well no, it's actually people that kind of suck.'"
Though Michael K. Williams' role in the film is small, it was one he wanted badly. In Kill the Messenger, Williams was tasked with portraying drug kingpin (later turned rap star) Rick Ross. "It was just exciting just to play this iconic drug dealer. I guess it's just the hood in me," the Boardwalk Empire star smiled. "I don't really know, but that was the first thing that attracted me to it. Then when I read the script and I realized that he was a pawn in the game, and that Gary Webb -- that whole thing -- it just blew me away. Then I felt a social responsibility to play this. It became not about me anymore."
Neither Renner nor Williams took Webb's story as a cautionary tale. Kill The Messenger shows quite clearly how Gary Webb's life was destroyed because he unearthed secrets that shamed the U.S. government. But neither Renner nor Williams feared repercussions for their parts of Kill The Messenger. Renner actually shrugged, "No, I'm not afraid of those things." Williams, meanwhile, cited it as part of the reason he was drawn to the project to begin with.
"That's what I'm here to do as an actor, is to tell this story," Williams shared. "That's part of my job. That's part of the fun of being an actor is to be part of stories like this, so no, I wasn't concerned at all."
Williams' scenes with Tim Blake Nelson led to a fast reunion. Nelson plays Rick Ross's lawyer in the film, and Williams says the two actors hit it off straightaway. "He and I created a friendship that spilled over into his film that he wrote and directed, that he cast me in a role in," Michaels offer, "It's call Anesthesia I'm extremely proud of it. He wanted to stretch me, and he casted me in the role of this Yale graduate criminal defense attorney. So, I hope I pleased Tim in taking a chanced on me, but I really have a lot of respect for him." Williams described Anethesia as a New York-set drama "like the film Crash with all these different lives kind of intersecting at different points." No release date has yet been announced.
Renner needed to become a producer to get Kill The Messenger made. This marks the actors first time at producing. But what inspired him to try on this new hat? "I wanted to produce it because it was going to be hard to make and it was going to take a lot of extra effort to get it made," Renner explained. "It's not unlike the Hurt Locker and The Town and the things that I've done in the past that I sort of wanted to continue doing. Studios aren't making those movies. Those jobs aren't being thrown in my direction, so I have to sort of manifest those jobs. Kill the Messenger had all of the elements that I wanted to go to work and have to go through a lot of work to get the movie made. So it was all very worth it to me."
Kill The Messenger opens October 10th. Read our review here.
Staff writer at CinemaBlend.
Your Daily Blend of Entertainment News
Thank you for signing up to CinemaBlend. You will receive a verification email shortly.
There was a problem. Please refresh the page and try again.