The Wire's Omar Was Once Cast In A Marvel Movie, Here's What Happened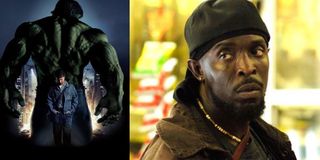 Earlier we reported that Boardwalk Empire's Michael K. Williams is ready and willing to take on the role of Black Panther. All Marvel need do is ask. But this possible casting scenario would not mark the heralded actor's first appearance in a Marvel movie. Deep-cut fans of Williams know full well he had a blink-and-you'll-miss-it role in 2008's Edward Norton-led The Incredible Hulk.
He's credited as "Harlem bystander," which is insane when you consider this film came out at the tail-end of his run on the highly acclaimed series The Wire. Michael K. Williams was too big a name to be casually popping up as a featured extra. So how did this happen? Turns out, Williams had a major moment with the titular superhero that was nearly completely cut from the film.
While researching to interview Michael K. Williams about his role in the Jeremy Renner-fronted thriller Kill The Messenger, I was surprised to realize that he beat The Avengers star to sharing a scene with the Hulk. When I asked Williams about how he came to be in The Incredible Hulk--for "five seconds" by his estimate--he unfolded a whole sequence that got lost to studio notes. He explained:
From that scene of action, confrontation and Harlem bravado, Michael K. Williams role got cut down to this:
Upon the film's release, Williams told IGN this part was created for him by Ed Norton. And according to Williams, Norton himself directed him in this sequence. He recalls:
Nonetheless, the scene was shot. And Michael K. Williams is hopeful that it will someday see the light of day. "At least as outtakes," he laughs.
Of course, this was Hulk pre-Disney acquisition of Marvel. So it'd be Marvel and Universal that'd need to make that call. And depending on when this scene was cut, it's possible that the CG that brought to life The Hulk and his villainous reflection The Abomination was never completed. But all the same, we'd love to see the badass Williams giving Hulk permission to smash.
Staff writer at CinemaBlend.
Your Daily Blend of Entertainment News
Thank you for signing up to CinemaBlend. You will receive a verification email shortly.
There was a problem. Please refresh the page and try again.