The Plot Of Avengers 2 Just Went Public, Read It Here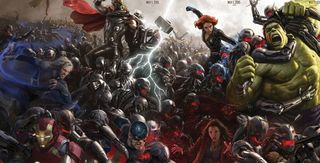 The official plot for Avengers: Age Of Ultron has been released, and it suggests that even the best laid plans of Tony Stark sometimes go awry.
Walt Disney Studio and Marvel Studios have provided Stitch Kingdom with an exclusive look at the official synopsis for the hugely anticipated follow-up to the third most successful film of all time - and it makes for some pretty interesting reading.
So what does it tell us? You can check out the main blurb below:
Sounds pretty intense, huh? Does this mean that Stark will be the first man to come into contact with Ultron because of his high-profile peace-keeping role? Could he even be seriously injured in an attack that then means the rest of the superheroes have to band together to avenge their friend? Will we finally see Bruce Banner as a doctor? Of course we still haven't got a clue, but it's fun to speculate.
It also sounds as though there are going to a myriad of different conflicts - some of which could be romantically tinged - permeating throughout the adventure. I'm pretty sure that, despite their problems, Robert Downey Jr.'s sometimes irritating but always charming Iron Man, Chris Hemsworth's Nordic God Thor, Chris Evans' loveably shielded Captain America and Mark Ruffalo's potentially furious The Hulk will still be able to muster up something impressive to tackle James Spader's Ultron, who is described as being a "terrifying technological villain hell-bent on human extinction." And even if they're not enough, we can't forget the "two mysterious and powerful newcomers" in the shape of Wanda Maximoff and Pietro Maximoff, who are played by Elizabeth Olsen and Aaron Taylor-Johnson respectively, along the way too. And even after them there's still a line of defense that includes Scarlett Johansson's Black Widow, Jeremy Renner's Hawkeye, Samuel L. Jackson's Nick Fury, Cobie Smulders' Agent Maria Hill, who will be waiting in the wings ready to jump into the fray when called upon too. It almost sounds as though it's not fair on Ultron. Does he not have a tag-team partner he can call upon? I guess his endless army of robots probably counts.
Joss Whedon has returned for writing and directing duties on The Avengers: Age of Ultron, which is the follow-up to his gargantuan 2012 blockbuster, The Avengers. Marvel's head-honcho, Kevin Feige, is behind the scenes orchestrating proceedings as well, and he will no doubt have insisted that the film heads in a certain direction in order for it to assist future additions to the studio's cinematic universe.
Avengers: Age Of Ultron will finally blast into cinemas on May 1, 2015.
Your Daily Blend of Entertainment News