The Future Of Hansel And Gretel: Witch Hunters 2 Just Took A Huge Blow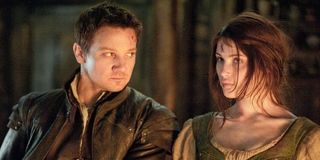 It turns out Jeremy Renner's uber-busy schedule may not be the biggest obstacle Hansel & Gretel: Witch Hunters 2 has to face. The sequel to the R-rated fairy tale just lost its director.
Fangoria breaks our hearts by reporting Hansel & Gretel: Witch Hunters helmer Tommy Wirkola has walked away from the sequel. He explains:
Excuse me. I need a moment to let my hopes for Hansel & Gretel: Witch Hunters 2 shatter completely.
On the surface, this might not seem like a huge deal. After all, it seems Wirkola is game to help produce the pic alongside Gary Sanchez Productions. He's already turned his final draft of the sequel's screenplay into Paramount Pictures. So the studio can just hunt down a new director, right?
Yeah. In theory. But more likely is that Tommy Wirkola's walking away will put Hansel & Gretel: Witch Hunters 2 on a "we'll deal with this later" shelf from which it will never come down. Now, there's just too little in its favor to remain optimistic.
Hansel & Gretel: Witch Hunters was set up to fail. After repeated delays in its release, Paramount finally unveiled the picture in January, a common dumping ground for lackluster projects. The studio kept critics away by limiting press screenings, resulting in a trickling of reviews that were mostly bad. But despite all these hurdles, Hansel & Gretel: Witch Hunters found an audience, and climbed to a moderately impressive $226 million worldwide. So, Paramount promised us a sequel. This summer Paramount further promised we'd have it by 2016.
Then came the bad news. While promoting his insane sequel Dead Snow 2, Wirkola confessed he didn't know when Hansel & Gretel: Witch Hunters 2 might shoot because "Jeremy [Renner] is so busy these days…We'll see. Hopefully, I'll get to do another film first."
From there, I had the opportunity to ask Renner about the prospect of his reprising the role of Hansel, and he agreed his schedule is an issue. But he offered, "I don't have any problem with (doing the sequel). Yeah. (The first one) was a lot of fun. It was fun to do that movie, and just have a ball." But with Wirkola gone, Renner will be far less likely to be called on to hoist his steam punk shotgun for Hansel & Gretel: Witch Hunters 2.
Frankly, the first film was so distinctively within Wirkola's style of gore and comedy that's it's hard to imagine this sequel moving on without him. Think of it like Ant-Man--albeit with way less people caring about it. It's likely that after Wirkola spent so much time and energy creating the world of Hansel & Gretel: Witch Hunters 2, any director who took this gig would be in a lose-lose scenario. If they don't do well, fans of the first film will condemn him/her for screwing up Wirkola's sequel. If they do a great job and Hansel & Gretel: Witch Hunters 2 is a totally blast, Wirkola will be credited for having done the heavy lifting.
Having said all this. I hope I'm wrong. But it seems like the thing both Wirkola and Renner want before they'd consider Hansel & Gretel: Witch Hunters 2 is time. And time is often the death of sequels.
Your Daily Blend of Entertainment News
Staff writer at CinemaBlend.