One Of Hollywood's Best Actors Is Campaigning To Play Black Panther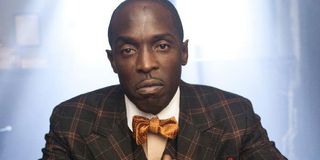 A Black Panther movie is coming. Marvel might be keeping mum about it, but Stan Lee has confirmed it. The time is right for actors looking to make their way into the Marvel Cinematic Universe to speak up if interested. And the most recent to say it loud and proud is Michael K. Williams of The Wire and Boardwalk Empire.
Earlier today, I sat down with Michael K. Williams to discuss his role in the upcoming Jeremy Renner vehicle Kill The Messenger. We'll share more about this tense political thriller closer to its release in October. However, when the conversation turned to all things Marvel, Williams was frank for his hopes and ambitions to get in on the superhero stories. Asked if he had been approached about joining the latest phases of Marvel's Cinematic roll-out, he said:
I asked if there was any part he had his eye on. Michael K. Williams said with a broad smile:
But does his enthusiasm for the role stem from a childhood devotion to the character? Or rather from the enticing opportunity to get in on these big, bold blockbusters?
What does Williams feel he could bring to the role of Black Panther?
Marvel should be so lucky.
Michael K. Williams (A.K.A. Michael Kenneth Williams) has been bringing his New York brand of grit and dangerous appeal to the screen since his film debut in the 1996 crime drama MugShot. Within three years he was working with Martin Scorsese on Bringing Out the Dead. Then in 2001, he got his first role on an HBO series, landing a one-off on The Sopranos. Later he'd win acclaim and ravenous fans for his work on The Wire and Boardwalk Empire. He's gone on to work with a slew of acclaimed directors like Antoine Fuqua (Brooklyn's Finest), Ben Affleck (Gone Baby Gone), Spike Lee (Miracle of St. Anna), Todd Solondz (Life During War Time) and Steve McQueen (12 Years a Slave). He's sought after, admired, and one hell of an actor. Marvel would be mad not to at least take a meeting with the guy.
Make it happen, Marvel. We're sure Jeremy Renner will put in a good word for you.
Your Daily Blend of Entertainment News
Staff writer at CinemaBlend.