Mallrats 2 Will Introduce A Bunch Of New Characters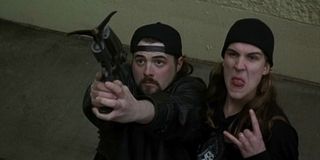 In what feels like a relatively short time, Kevin Smith announced Mallrats 2, got the gang back together for another afternoon of retail bliss, and started planning to film this year. A big part of the fun is going to be seeing all of our favorite characters again, but there will also be some new faces as well.
On a recent episode of the Hollywood Babble-On podcast, Smith revealed that not only are there 18 returning characters, but half a dozen new ones as well. He said:
That sounds like a lot of balls to juggle, but while there may be 24 characters to deal with—he doesn't specify which actors haven't agreed to return just yet—the way Smith structures his films, many of them will likely show up for a scene, maybe two, and that's it. We know that Jason Lee and Jeremy London, the two main characters from the 1995 original, are back, but so are the likes of Renee Humphries, who plays Trish the Dish, and only really has a few minutes worth of screen time. It's likely that many of these familiar faces will also be background players to in the larger drama. They add to the overall texture of the movie, but don't necessarily drive the narrative.
Part of what made Smith's early films such a blast is that he was able to take characters with one scene and not many lines, and make them super memorable. Some of the most quotable lines come from secondary characters. Much like the comic book companies he loves so much are doing with their films, Smith created his own cinematic world. People in one movie reference characters, places, and events from others. It's a sprawling latticework that, at least in some regards, functions a lot like the Marvel Cinematic Universe, only instead of a global network of superheroes, it's Northern New Jersey.
Much of the original cast is already in place. In addition to Lee, London, and Humphries, and their respective characters—Brodie Bruce, T.S. Quint, and Trish—Kevin Smith has wrangled up Joey Lauren Adams' mall denizen Gwen, Michael Rooker and his pretzel-loving Jared Svenning, Sven-Ole Thorsen as the security guard La Fours, and Ethan Suplee's William. Hell, Shannen Doherty is even back as Rene, and comic book legend Stan Lee is apparently going to make another appearance. And, of course, perennial slackers Jay (Jason Mewes) and Silent Bob (Smith) will play a role as well.
It'll be curious to see who all does come back to the Mallrats fold (is Affleck too big time now that he's Batman to be in his buddy's movie?), and see what the newcomers bring to the table. We'll find out all of this sooner than we thought, as Mallrats 2 is going to film this year, even before Smith's other visit to his own cinematic past, Clerks 3.
Your Daily Blend of Entertainment News