The Mandrake The Magician Movie Has Finally Found Its Star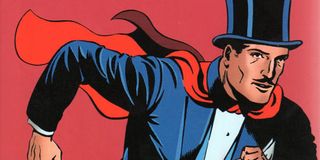 With the superhero genre already saturated with offerings by Marvel Studios and DC Comics, there doesn't seem like there's a lot of room left for the little guys. However, there are a couple projects in play that hearken back to the days before Stan Lee appeared in every Marvel film, and before even Batman started saving the day on the big screen. And as luck would have it, Mandrake The Magician is about to have his day on the big screen, with Sacha Baron Cohen playing the titular hero.
Tracking Board scooped the news, as well as the fact that Mandrake The Magician would be making his studio home at Warner Bros – the same studio that also owns / produces the DC Comics Cinematic Universe. Along for the ride with Sacha Baron Cohen in the lead is writer/director Etan Cohen, who previously worked with the studio as the writer/director on last year's "blink and you'd miss it" comedy, Get Hard.
The character of Mandrake The Magician is a hypnotic magical professional, who uses his powers to confuse and confound those who would do evil on his watch. The character was originated in a comic strip in 1934, but Sacha Baron Cohen won't have to get into vintage mode per se, as the character is going to be updated for a film set in our contemporary era. So while the classic variant of the character looks like the tuxedoed / mustachioed archetype we think of when we conjure images of magicians past, don't expect Baron Cohen to be wearing that. If anything, considering the project's pedigree at this current moment, it wouldn't be surprising if the character is re-written as a David Copperfield sort of showboating magician.
Perhaps the greatest change that could / may be made to Mandrake The Magician is the fact that all signs seem to point to a farcical comedy being made with the legendary character. With a more modern setting in the works, as well as Cohen and Baron Cohen's hirings, Mandrake's modern day update will more likely exist as a comedic antidote to the more serious films that DC Comics, and even Marvel Studios, are currently making. It seems to be the only reason that a studio already overloaded with comic properties would even consider taking another one into its holdings, unless there's some sort of "Mandrake v The Flash: Dawn of Crossovers" project in the works that we're not aware of.
Now with Sacha Baron Cohen, there's usually two modes to his bumbling: there's the heartfelt / charming bumbling, which was seen in his role as the train station police officer in Hugo. Then, there's the crass / dim-witted bumbling that Baron Cohen has made his career on, seen in such characters as Ali-G, Borat, and Bruno. For our sake, as well as that of the audience, if Mandrake needs to be a bumbler, we're hoping he'll be a heartfelt / charming bumbler, as that sort of role plays more towards Sacha Baron Cohen's natural sensibilities. For the time being, there's no production or release date schedule set for Mandrake The Magician, but as soon as we hear anything new, you'll be the first to know.
CinemaBlend's James Bond (expert). Also versed in Large Scale Aggressors, time travel, and Guillermo del Toro. He fights for The User.
Your Daily Blend of Entertainment News
Thank you for signing up to CinemaBlend. You will receive a verification email shortly.
There was a problem. Please refresh the page and try again.