Marion Cotillard Replaces Natalie Portman As Lady Macbeth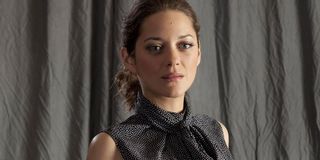 Do you want to be married to Michael Fassbender? Wait, before you jump at the opportunity, you probably need the details. First of all, it's only on screen. Second of all, it's a marriage that, by the time the story starts, has already gotten a little strange. Third, it's a marriage that ends in not just your death and his death, but the death of pretty much everyone else around you. Being Mrs.Fassbender might be great, but being Lady Macbeth is a much tougher job.
Which might be part of why Natalie Portman has backed away from it. Deadline reports that Portman has bailed on a planned new adaptation of the Shakespeare classic Macbeth, but another Oscar winner, Marion Cotillard, has taken her spot. Deadline says that Fassbender is only "still in the mix" for the Macbeth role, so presumably Cotillard could wind up scheming and bloodying up her enemies alongside another top-flight actor. After all, the last time Portman and Fassbender tried to team up it was for Jane Got A Gun, which devolved into chaos not long after Fassbender walked away from the project. He seemed to know something nobody else did on that one… maybe Portman is the one in the know this time?
An adaptation of a Shakespeare play is very different from a feminist Western, obviously, and this spin on Macbeth has more than just history on its side-- The King's Speech producers Iain Canning and Emile Sherman are backing it, with Snowtown helmer Justin Kurzel behind the camera. Macbeth has been adapted for the screen dozens of times, starring everyone from Orson Welles to Toshiro Mifune (in the Kurosawa version Throne of Blood) to Sam Worthington. Yes, Avatar star Sam Worthington played the role, in a 2006 Australian flop I'd never heard of until this moment. (Warning: The below trailer is NSFW because in this version, Macbeth has sex with the three witches who are now schoolgirls. You've been warned)
There haven't been many details on how Kurzel plans to adapt Macbeth, or even if he'll keep the original medieval setting or update it to modern day. Cotillard, though, ought to be able to easily fit in regardless. Sure, her English-language roles since winning the Oscar for La vie en Rose haven't been as outstanding as they ought to be, getting lost in the messy ensemble of Nine, luring Leonardo DiCaprio and Christian Bale in Inception and The Dark Knight Rises, respectively, and at least holding her own in the large casts of Contagion and Midnight in Paris. But she's earning good word for her role in James Gray's upcoming The Immigrant, and it's clear that the La vie en Rose performance was no fluke. If an actress ever wants to prove her chops, the Lady Macbeth role is a surefire way to do it. Macbeth is set to start production next year, so prepare to see Cotillard put to the Shakespearean test sometime late in 2014.
Your Daily Blend of Entertainment News
Staff Writer at CinemaBlend