Mark Ruffalo Calls Marvel Out For Not Having More Black Widow Merchandise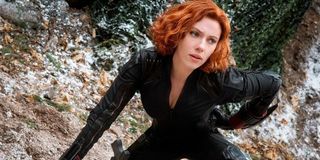 Is there something amiss at Marvel Towers? Because Mark Ruffalo, who gallantly reinvigorated the character of the Hulk/Bruce Banner because of his appearance in The Avengers, has told the studio that he wants more Black Widow merchandise.
But why did he make such a request? Is it because he's fed of the inherent misogyny that is still rife in cinema? Is it his way of supporting Scarlett Johannsson after Chris Evans and Jeremy Renner's crude comments towards the character last week? Nope. It just turns out he's the best father and uncle in the world, and he's decided to use these powers for good rather than evil. Ruffalo took to his official Twitter account to make his case, writing:
Let's hope that Marvel Studios and those who are in control of creating this merch quickly responded to Ruffalo's call for consumer goods. Because if they didn't, there's a good chance that they lost out on the grand sum of at least $20, maybe even just over $40. No wonder they're still mulling over whether or not to bring a new Hulk solo movie out.
Mark Ruffalo and Scarlett Johannsson have been paired up throughout the promotional campaign for Avengers: Age Of Ultron. This is mostly down to the teases in the blockbuster's various trailers that there could be a little bit of a romance blooming between the pair, as they've been seen getting mighty close in the clips. However this could all just be purely innocent, because, even though the history of Hollywood is littered with examples of this not being the case, a man and a woman can actually be friends without it getting intimate or physical.
At this point, we've all only got a few hours left to wait until the USA is finally infiltrated by Avengers: Age Of Ultron, so we'll soon be able to see for ourselves whether Bruce Banner/Hulk and Black Widow are adorable chums or the new superhero Ross and Rachel. And, let's face it, each and every one of you will need to go and see the blockbuster sequel because if you don't you'll probably be the laughing stock of your social circle. You'll be able to do just that from tomorrow night, when Age Of Ultron arrives at theaters everywhere.
Your Daily Blend of Entertainment News