Mark Strong Joins Nicole Kidman For Before I Go To Sleep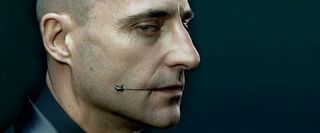 What if every morning when you woke up, you couldn't remember who you are? It'd be terrifying, right? Even if a man turns to you and tells you that you're safe, that you're his wife, and that you can't remember the last 20 years of your life because of a trauma that's caused amnesia, this would still be pretty disturbing. But this is not just the disturbing ending of the Drew Barrymore/Adam Sandler romantic-comedy 50 First Dates, it's also the premise of the upcoming thriller Before I Go to Sleep.
Based on S.J. Watson's critically praised novel, this thriller centers on a middle-aged Londoner named Christine, who wakes each morning forced to rediscover who she is. Her loving—if overbearing—husband Ben tries to assuage her fears and keep her stress-free by confining her to their home. But Christine doesn't want a life of infinite forgetting, and so seeks out a doctor's advice in secret. Her doctor persuades her to keep a diary of her days with a digital recorder, so she can play them back in hopes of retaining memories. The good news is this treatment works, the bad news is she realizes Ben is not to be trusted. So, it's basically 50 First Dates meets Memento.
Earlier this year Nicole Kidman signed on to star as Christine, and now Variety reports Mark Strong, who recently appeared in Tinker Tailor Soldier Spy, has committed to play her doctor. There is no word yet on who might play Ben, but I have to admit I'm disappointed Strong won't be given the duplicitous role opposite Kidman. Nonetheless, Strong is such a solid performer that it's always good news when he's added to a production.
Rowan Joffe, who wrote and directed the 2010 crime thriller Brighton Rock, will pen the adapted screenplay and helm. Before I Go to Sleep is slated to shoot in London early next year.
Staff writer at CinemaBlend.
Your Daily Blend of Entertainment News
Thank you for signing up to CinemaBlend. You will receive a verification email shortly.
There was a problem. Please refresh the page and try again.