Marvel And DC Bully The Croods 2 And Puss In Boots 2 To New Release Dates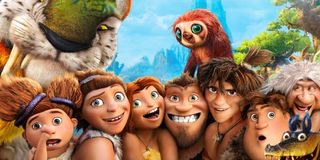 Thanksgiving has proven an outstanding time to open family-friendly entertainment. Americans, stuffed with turkey and exhausted from Black Friday deal-shopping, trudge into theaters looking for something bubbly and bright. And often, they find it in cartoons. Last year Frozen broke records on that highly competitive holiday weekend. And it's a model DreamWorks was set to follow with The Croods 2 and Puss In Boots 2: Nine Lives & Forty Thieves. But the unstoppable force -- big-screen superheroes -- has scared both films to later dates.
Coming Soon reveals The Croods 2 was set for an early November 2017 release date. But now, the sequel to the Neanderthal family comedy will open closer to Christmas, December 22, 2017. Puss In Boots 2: Nine Lives & Forty Thieves is following suit, leaping from November 2018 to December 21, 2018. If you're groaning over waiting for the return of your beloved characters, blame Marvel and DC, whose brands are so strong that even unnamed movies can spook competitors.
Prior to this change, The Croods 2 was looking to hit on November 10th, 2017. However, Marvel has since announced one of their sure-to-be blockbusters will open the week before, on November 3rd. DC has countered, promising an unnamed project of their own for November 17th. Flanked by two movies that could boast such bankable heroes as Iron Man, Captain America, Superman or Batman, DreamWorks understandably bailed out on their November slot, where animated competition is already potentially stiff as Universal's animated remake of How the Grinch Stole Christmas is slated for November 17th as well.
For now, The Croods 2 is alone on its December 22nd release. But that won't last. Still, it seems a shrewd move by DreamWorks, as the first Croods movie was well-received, earning $587 mil worldwide, but not a strong enough hit to do battle with the behemoth's that are Marvel and DC superhero movies.
As for Puss In Boots 2: Nine Lives & Forty Thieves, it's the exact same story. November 2nd, 2018 will see the release of another unnamed Marvel movie, and DC is promising an "event film" two weeks later on November 16th. Wedging the sequel of the lowest domestic grossing Shrek movie in between would have been an immensely foolish move. Like The Croods 2, Puss In Boots 2: Nine Lives & Forty Thieves is now sitting pretty and solo in its Christmas timeslot.
The Croods 2 will have Nicolas Cage, Emma Stone and Ryan Reynolds reprising their roles, while Catherine Keener, Clark Duke and Cloris Leachman are expected to return. It's unknown where the sequel will take the formerly cave-dwelling family, but with writer-directors Kirk De Micco and Chris Sanders back on board, we expect good things.
Far less is known about Puss In Boots 2: Nine Lives & Forty Thieves, aside from it will be helmed by Chris Miller (Puss in Boots, Shrek The Third). However, we suspect Antonio Banderas will return, and a 3D release seems inevitable.
Your Daily Blend of Entertainment News
Staff writer at CinemaBlend.