Marvel, ExpendaBelles And The Raid 3: 6 Projects Uber-Stuntwoman Zoe Bell Pursues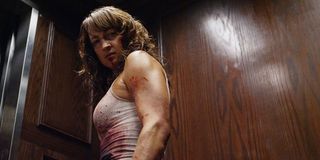 New Zealander Zoë Bell is an unusual Hollywood triple threat. She's an internationally recognized stunt woman thanks to the documentary Double Dare and Quentin Tarantino's Death Proof. She's an actress with credits opposite Gerard Butler (Gamer), Ellen Page (Whip It) and Tom Cruise (Oblivion). And with her latest movie Raze, this ass-kicking leading lady has also turned producer.
While Bell is proud of all she's achieved so far and grateful for her loyal fan following, she's not done yet. When I sat down with her ahead of the release of her gritty women-in-prison thriller, we not only discussed Raze (read the first half of the interview here), but also covered a wide range of projects and challenges Bell is eager to take on. Ranging from Marvel superheroes to The ExpendaBelles and breaking into the Fast & Furious franchise, this charismatic Renaissance woman shares six dream projects she's fighting to make real.
Fast & Furious
Like anyone who has watched Bell's death-defying "Ship-Mast" sequence in Quentin Tarantino's Death Proof, I find it absolutely insane that Bell hasn't been brought into Dominic Toretto's ever-expanding circle of Fast & Furious friends and enemies. I said as much to Bell, and she confessed she actually did audition for Fast & Furious 7:
She didn't give further details about the part she tried out for, but might it be the one MMA fighter Ronda Rousey ultimately landed?
Expendabelles
Even if she did lose Fast & Furious 7 to Rousey, Bell's not sore about it. She seems to regard more women kicking ass on camera as a good thing, which likely feeds into her enthusiasm for the female-fronted Expendables spin-off tentatively known as ExpendaBelles. Confirming fan speculation that Bell is being considered for the project, she previously revealed she'd had a meeting with its makers. When I asked her about it, she wanted to clarify how this meeting came about, saying:
As Bell is no longer just a stunt woman or actress, but also a producer, I asked who'd be in her dream cast of such a movie. And her answer was pretty awesome:
ExpendaBelles makers should not only cast Bell, but also should bring her on board as a producer to help wrangle her wish list. I stand by what I said above. Her movie would be outstanding.
She Wants A Kick-Ass Sitcom
Aside from her ideal ExpendaBelles, I inquired what other dream projects Bell has been batting around, and found she has a lot of big plans. She detailed:
Here's hoping we hear more on both of these projects soon.
Hansel & Gretel: Witch Hunters 2
Her interest in doing comedy led me to ask if she'd heard anything about Hansel & Gretel: Witch Hunters 2, as she'd appeared as "Tall Witch" of the coven in the first film. The sequel to the 2013 action-comedy was announced last spring, but no news has risen since then. Bell offered:
Bell pointed out that technically the death of her character was implied in the first film, but we agreed it would be a simple thing to either bring Tall Witch back or just recast Bell as a new witch. But regardless, she is game.
Marvel & DC?
With both Marvel and DC aggressively growing their superhero brands, it seems someone would be in touch with Bell, who has a great screen presence and needs no stunt double. Yet Bell says neither team has coming calling just yet. But she's optimistic. She explained she has just signed with new management, adding:
She's Dying To Work With Gareth Evans
When I asked Bell what recent movie's stunts really blew her hair back, she responded, "I saw The Raid like five times. Mental. Every time I watch that movie I'm just like, 'How did someone create this guy and these people? And how do all of these fights keep being more exciting and unique and amazing?!'"
Regarding the trailer for The Raid 2, Bell admitted she was "jealous" of Hammer Girl, who wears a darling dress and jacket and wields a blood-splattered hammer. I asked if working with Evans would be on her list of ambitions and she eagerly replied:
A twitter introduction might be in order.
BONUS: A Bit About Django Unchained
Lastly, let's look back to her hidden role in Django Unchained as a masked tracker. When the movie came out, Bell had admitted her part in the final film wasn't as big as it was in Tarantino's screenplay, alluding to a backstory for her character that we never saw. I had hoped with the movie long behind her, and its legacy established, she might open up more about Tracker Peg and her back story. She explained:
Of course, I pressed for details on this secret story, but Bell resisted, saying:
I'm still waiting to hear back from Bell. But in the meantime, it's fascinating stuff to find out Tarantino and Asghar Farhadi share some similar directing techniques. Who knew?
Raze is now in theaters and on VOD.
Staff writer at CinemaBlend.