Matt Damon's Best Movie: The Talented Mr. Ripley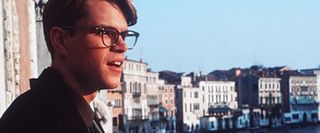 [With The Adjustment Bureau hitting theaters on Friday, at Cinema Blend we've been thinking a lot about Matt Damon, and the star power that has kept him in the public eye for 15 years now. Starting off as a fresh-faced kid in the mid-90s, morphing into a bona fide action hero in the early 00s and snagging two Oscar nominations (and one win) along the way, he's had a career so varied that you can get into a lengthy argument with a friend about which film is his best, and both of you can be right. Which is exactly what we did, finally deciding we'd each pick a favorite and sing its praises. Continuing our series is Katey, who brings us to the sun-dappled Mediterranean and its dark secrets for The Talented Mr. Ripley. Here's Katey…]
In 1999, Matt Damon was undeniably a superstar, Oscar firmly in hand and, with his pin-up looks, Hollywood at his feet. He could have tried to jump immediately into being the Jason Bourne action hero he'd become, but instead went for two different, utterly unconventional roles-- the fallen anarchic angel in Kevin Smith's Dogma, and the lonely gay serial killer in Anthony Minghella's The Talented Mr. Ripley. A much longer version of the movie's title describes Ripley as many more things, including "secretive, sad, lonely, troubled… beautiful, tender, haunted, passionate." Damon becomes all of them not by playing them, but by shrinking into the skin of the slender, invisible Ripley with a restraint and intuition we'd never seen from him before. He allows nearly all of his co-stars to outshine him-- hell, the Mediterranean locations seem to get more attention than he does-- but he is always there, always watching, always digging himself in deeper with his lies and crossing every moral line to get out of them. He is magnetic in the exact opposite way as Jude Law's golden boy Dickie Greenleaf; Dickie draws you in with ease and the promise of unlimited joy, while Tom Ripley fascinates and repulses equally, so you can't look away.
In the final scenes of the movie Tom escapes on a cruise ship with the affectionate, entirely decent Peter Smith-Kingsley-- more daring even than playing a serial killer, it was a risk for Damon to play a character who is gay-- and for the first time we see Tom truly happy. Moments later he's forced to violently end the affair, sobbing, and Damon lays the character and himself bare in the reflection of a swinging door mirror; while playing an enigma of a character Damon revealed himself, and built up the emotional bulk that gave him what he needed to do pretty much anything from there.
This poll is no longer available.
[Check back for more in our Matt Damon's Best Movie series, coming right here later this week.]
Staff Writer at CinemaBlend
Your Daily Blend of Entertainment News
Thank you for signing up to CinemaBlend. You will receive a verification email shortly.
There was a problem. Please refresh the page and try again.