Matt Damon Fights For The Future In Extended Elysium Footage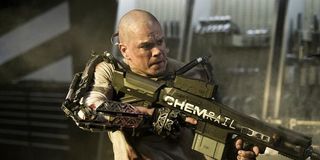 It was five years ago that writer/director Neill Blomkamp first blew us all away with his debut film District 9. Using the science-fiction genre to explore political themes and important issues, the film was a monumental success, both critically and with audiences, eventually going on to earn a Best Picture nomination at the Academy Awards. We've waited a long time to see how the talented filmmaker would follow up such an impressive debut, and today we got to see an exciting and promising preview.
Earlier this afternoon, Blomkamp, star Sharlto Copley, and producer Simon Kinberg (with Matt Damon attending via satellite from Germany) came together at the Arclight Hollywood theater in Los Angeles, California to present a crowd of both fans and journalists with the first look at Elysium, the new sci-fi blockbuster that will be in theaters this August. In addition to showing off the debut theatrical trailer, which will be online tomorrow, the group presented 10 minutes of exclusive footage from the film that, sadly, won't be available online… but allow me to paint the picture…
After a quick array of clips and title cards establishing the premise of the future world the movie exists in – which has the population of Earth divided into two classes, the poor living on the surface and the rich occupying a lush space station known as Elysium – the first extended footage showed off a team of refugees trying to pilot a beaten up spaceship away from the land of the have-nots to the land of the haves, only to be spotted by the security team at Elysium, including Jodie Foster's character, Secretary Rhodes. The crew in space alerts a team on the surface, and we see Copley's character Kruger, step out of a grounded ship, pull out a gigantic missile launcher, and blast the refugees in space to smithereens.
From there we are introduced to Matt Damon as Max DeCosta, who is waiting on line for something when he is identified by a droid that is doing a security check for contraband. Revealed as a former felon, Max is singled out and asked what he has in his bag – to which the shaved-head character replies "hair products." Obviously lacking a sense of humor, the droid tells Max that he must report to his parole officer before knocking him to the ground. While obviously an abbreviated look, the footage overall delivered a solid sense of Damon's character, particularly his sense of humor. In another scene we get to see him interacting with his parole officer – who is reminiscent of Johnny Cab from the original Total Recall - where he is shown to be a total smartass, imitating the robot's voice and mocking him. Hopefully it will be trait that continues even after the plot starts getting more serious.
In the next scene we see Max in a hospital (presumably treating injuries sustained in his altercation with the robot). A nurse, played by Alice Braga, arrives from behind a green curtain and it's established that Max knows her well, though he hasn't seen her for a while as she has been away. While bandaging his broken wrist, Braga's character reveals that Max used to be a car thief, though he claims to have left that life behind. While not an incredibly detailed scene, it does give us a connection between the protagonist and another character, while also delivering some backstory and softly-laid exposition.
From there Max goes to work at what looks like a droid factory, where he has yet another confrontation – this time with his boss who sees his injury and tells him to go home. Desperate to stay on and work, Max fights so that he can stay, but his boss docks him for a half day. While on the line, Max runs into trouble with a door that gets jammed. Yelled at for holding up the line, Max is forced to enter the room he is trying to seal, and winds up getting stuck and presumably exposed to a great deal of toxins. The door opens, a droid comes out and drops some pills, and we learn that our desperate hero has only five days to live. The scene is cut down so that we don't see what happens in between the door shutting and reopening, just Max screaming for help before cutting to black. What happens to him inside is definitely an interesting mystery.
And thus the plot is put in motion: in order to cure himself, Max must get to Elysium, where technology exists that has eradicated all disease and could save his life. To do so, the protagonist visits a group of criminals who tell him that he needs to get access to a data chip that is located on the ear of a powerful executive named John Carlyle (William Fichtner) and download the information within. Max is outfitted with an exoskeleton – after some painful surgery – that will give him the strength to fight off a droid and the heist is set in motion. The hero and his team shoot Carlyle's ship out of the sky, have a gun battle with some security droids, and get to the chip.
With District 9, Blomkamp set the bar incredibly high both in terms of world building and visual effects, but just from what we got to see today his sophomore efforts definitely appears to be up to snuff. There's a tremendous, real-looking dichotomy that exists between Elysium and the Earth's surface, and as great as it is to see how the worlds are separately, it's even more impressive to see them intertwined, such as the look of the shiny droids and the comparison between Carlyle's ship and the ones used by both the refugees at the beginning and by Max and his team. What's more, all of the digital elements looked seamless, from the environments to equipment – particularly a gun used by Max that fires bullets that cause concussive blasts that tear droids to pieces.
And that's not all the Elysium goodness we have for you. Following the screening Blomkamp, Copley, and Kinberg were kind enough to spend time talking to the press about the new film, which we'll have for you tomorrow when the first theatrical trailer arrives online.
Your Daily Blend of Entertainment News
Assistant Managing Editor
NJ native who calls LA home and lives in a Dreamatorium. A decade-plus CinemaBlend veteran who is endlessly enthusiastic about the career he's dreamt of since seventh grade.
Your Daily Blend of Entertainment News
Thank you for signing up to CinemaBlend. You will receive a verification email shortly.
There was a problem. Please refresh the page and try again.