Matthew Goode Knows You Hated Him For Watchmen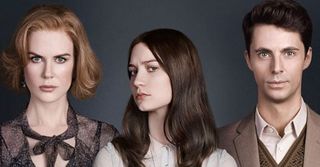 English actor Matthew Goode has landed roles in such acclaimed dramas as A Single Man and Match Point. But here in America, he's most often recognized—and regularly loathed—for playing Ozymandias in Zack Snyder's dedicatedly dark superhero movie Watchmen. Even before the movie came out, many fans of Alan Moore's comic decried Goode's casting, declaring he was not physically suited for the role. At the time, Goode's response was less than eloquent.
Memorably, The Sun quoted Goode as saying, "If fanboys still hate the film after going and seeing it, they can all line up and suck my d***." It was a comment that did not win him much love. But it a few years have passed, and while Goode's been doing press for Chan-wook Park's polarizing thriller Stoker, he was asked once more about Watchmen.
Speaking to the Huffington Post's Mike Ryan, Goode confessed he looks back fondly on making the movie, having enjoyed the process and the cast. And even understood why fanboys were wary of his casting, admitting he didn't feel he looked much like the original Ozymandias either. He says:
Fan fury, he went on, did not impact his performance during production because he trusted in Snyder's vision for his character. He surmises by saying, "I didn't have a bad experience on Watchmen. I think for me it was just difficult knowing that a vast amount of the audience who love it, didn't want me doing it. And that played on my mind quite a bit, I think."
The whole interview, which you can read in full here, is pretty fascinating, with Ryan and Goode discussing not just Stoker and Watchmen, but also (and unexpectedly) gun control in the US. Love or hate him, you have to admit Matthew Goode isn't afraid to say whatever is on his mind!
Stoker opens today in limited release.
Your Daily Blend of Entertainment News
Staff writer at CinemaBlend.