Matthew McConaughey Is Not Captain America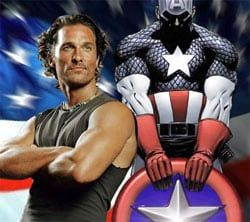 A few weeks ago one of our better sources told us here that Matthew McConaughey might be one of the names being considered for the role of Captain America in Marvel's upcoming movie. Naturally, this pissed everyone off. So fans, breathe a sigh of relief. Whether he was actually in contention or not, he isn't now.
IESB recently spoke with Marvel exec Kevin Feige, who gave them a few details on the movie. In the process of doing so, he was able to confirm that McC will not be Cap. As for who it will be, the movie's not due till 2011. We have a long time to find out.
Your Daily Blend of Entertainment News
Thank you for signing up to CinemaBlend. You will receive a verification email shortly.
There was a problem. Please refresh the page and try again.