Matthew McConaughey Considers Black List Script The Company Man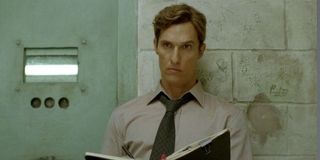 Matthew McConaughey has had such an uncanny streak in television and film that he earned his own word: McConaissance. From Magic Mike to The Wolf of Wall Street and Dallas Buyers Club, the Academy Award winner has been hitting it out of the park with critically heralded dramas based on true events. So, it's little surprise that McConaughey is currently eyeing another, this one about a CIA agent who goes behind enemy lines and gets tangled in international politics.
Deadline reports Matthew McConaughey is attached to The Company Man, a biopic previously known as the Untitled Ed Wilson Project. The script by Andrew Cypiot first earned buzz when it snagged a spot on the coveted Black List, a collection of screenplays bouncing about Hollywood that have earned praise but haven't scored production deals. DreamWorks senior exec Mark Sourian and Josh Kazdan are now producing the pic that is currently without a helmer.
Though McConaughey is clearly an interesting choice for The Company Man – presumably wanting to play its title role of Ed Wilson – his representatives insist that he's not locked into the project just yet. Still, it's reported that McConaughey is involved in the discussion of who should helm the biopic, which might mean this decision is what could secure him. Producers hope to shop the spec script as a package deal, so we'll certainly be hearing more about The Company Man before long. But in the meantime, let's explore the question of who is Ed Wilson?
Edwin Paul Wilson was a Marine who went into the CIA in the mid-1950s. He fought for the U.S. in the Cold War, working within the International Organizations Division, which focused on bringing down communism in trade organizations. His tactics of toppling foreign trade unions included such shady dealings as bringing in Corsican mobsters and unleashing swarms of cockroaches on meetings.
From there, Wilson moved into the CIA's Special Operations Division, where he set up front companies like Consultants International and Maritime Consulting Associates. Using these fronts, he was able to covertly ship supplies just about anywhere. These are said to have included arms to Angola, intelligence-gathering tech to Iran, and crowd control equipment to South America. These fronts went on to make Wilson a pretty penny outside his CIA paycheck. But in the 1970s, Wilson's story took a dramatic turn when he began selling weapons to Libya. Some of these weapons were ultimately traced to assassinations and terrorist acts. These and some other questionable instances put Wilson in the crosshairs of a lengthy investigation by the Bureau of Alcohol, Tobacco and Firearms.
This section of Wilson's life will be the focus of The Company Man. The subsequent case pitted the U.S. government against Wilson, who at the time of his indictment was in Libya, a nation that refused to extradite him. But with the Libyan nation growing suspicious of Wilson, he was far from safe. From there, his tale includes arrest, prosecution, conviction, and ultimately redemption. Basically, The Company Man should prove to be a meaty role for a continued McConaissance.
Staff writer at CinemaBlend.
Your Daily Blend of Entertainment News
Thank you for signing up to CinemaBlend. You will receive a verification email shortly.
There was a problem. Please refresh the page and try again.