Matthew McConaughey Is Getting An Oscar This Year, One Way Or Another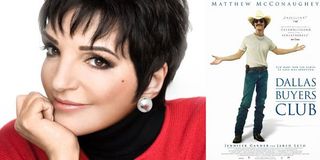 Of late, Matthew McConaughey has been proving a powerhouse in one drama after another. In 2013, we were frankly stunned his smarmy turn as strip club impresario Dallas in Magic Mike didn't earn him an Academy Award nomination. Then he followed it up with jaw-dropping performances in Jeff Nichols's Mud, Martin Scorsese's The Wolf of Wall Street and Jean-Marc Vallee's Dallas Buyers Club. It's put the Texan actor in a strong position for award season, but with Academy Award nominations around the corner, one noteworthy fan is singing his praises and promising him Oscar gold.
THR reports Academy Award-winner Liza Minnelli is a big admirer of McConaughey's work in Dallas Buyers Club. As such she showed her support at a special East Coast Academy members luncheon in New York City at Monkey Bar. There, dozens of voters who are eligible to submit their suggestions for the Oscar nominations were wined and dined in hopes of wooing them on the virtues of Dallas Buyers Club. McConaughey and co-star Jared Leto were on hand to schmooze Academy members. And their enthusiastic MC not only shared her thoughts on the film, but promised that if the Oscars didn't do right by McConaughey, she would. Minnelli said to the crowd:
That would be the Oscar she won for in 1973 for Cabaret. But if Dallas Buyers Club continues with the award season momentum it has shown so far, she won't have to put her Oscar where her mouth is. Already the film has earned two Golden Globe nods (for McConaughey and Leto), SAG nominations, and a slew of Critics Circle honors. So Oscar could come calling, especially if members decide McConaughey is due for his astonishing slate of roles of late.
Based on a true story, Dallas Buyers Club is set in 1985, when the AIDs epidemic was intensely feared and its victims were left without a proper medical infrastructure to help them survive. When a hustler named Ron Woodroof (McConaughey) contracted the virus, he worked outside of the system to get himself and those like him the meds they needed to live. As Minnelli mentioned, McConaughey has drawn a lot of notice for the weight he lost to play a believably stricken Woodruff. For his part, Leto has won much praise for his poignant portrayal of a transgender woman named Rayon. Garner plays Dr. Eve Saks, who treats Woodroof. Dallas Buyers Club is now playing.
Staff writer at CinemaBlend.
Your Daily Blend of Entertainment News
Thank you for signing up to CinemaBlend. You will receive a verification email shortly.
There was a problem. Please refresh the page and try again.