Matthew Vaughn Drops X-Men Sequel, And Bryan Singer Could Replace Him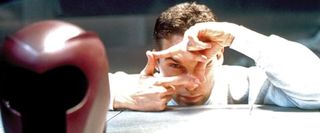 The X-Men fans who have wished that Bryan Singer would return to the movie franchise have gotten their wish, though I don't think any of them expected it to happen this way. Matthew Vaughn directed X-Men: First Class and was set to begin production on X-Men: Days of Future Past next spring. Now Vaughn is stepping away from the directing job, and 20th Century Fox's top choice to replace him is-- you guessed it-- Bryan Singer.
Singer was a producer on First Class and was planning to play the same role on the sequel; as Deadline notes, if Singer steps up as director, he and Vaughn will essentially be swapping roles, as Vaughn plans to stay on as producer. Vaughn's relationship with the studio isn't over yet either-- he's apparently planning to direct Secret Service, which would make his second adaptation of a Mark Millar graphic novel after Kick-Ass. As you might remember, Vaughn directed that film and then opted not to return for the sequel, which is now in production with Jeff Wadlow directing. We're detecting a trend here.
Then again, Singer has also walked away from his own sequels, leaving the X-Men franchise behind entirely when Brett Ratner took over X3, and only returning as a producer when the franchise rebooted with First Class. He's been in post-production on his project Jack the Giant Slayer for seemingly forever, but with that movie now set for a March 1 release next year, his schedule could finally be free enough to return to the X-Men universe as a director. Singer's passion for the characters and the franchise was a lot of what made the first two X-Men films so great; could he repeat it for Days of Future Past.
We'll let you know if this story pans out and if Singer even accepts the offer. Days of Future Past, for now, is set for release July 18, 2014.
Staff Writer at CinemaBlend
Your Daily Blend of Entertainment News
Thank you for signing up to CinemaBlend. You will receive a verification email shortly.
There was a problem. Please refresh the page and try again.