The Max Steel Movie Is Really Happening And Coming In Fall 2014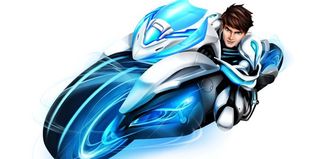 Safely removed from that terrible time when Taylor Lautner was attached to star, Mattel is safe to move forward on a movie based on a toy Max Steel-- and as dicey as it always is when a toy gets turned into a movie, they're moving forward indeed. Back in August we learned that writer Christopher Yost and director Stewart Hendler were on board, and now Mattel and Dolphin Entertainment have confirmed the project via press release, setting plans for a wide release near the end of 2014.
"We couldn't think of a better property to kick off Dolphin's feature film division than Max Steel, which tells a story of the power of friendship and teamwork, with a heavy dose of humor – all qualities we hope to bring to our partnership with the Mattel team," said Dolphin Entertainment CEO Bill O'Dowd in the release, which also announces Dolphin's multi-picture deal with distributor Open Road Entertainment. If you're unfamiliar with Max Steel-- and you might be, given that the toy line only existed in North America briefly from 2000-2002 and has since been most popular in Latin America-- here's the brief rundown from the press release, which promises to " introduce audiences to a new and never-before-seen world of Max Steel."
An animated series was launched alongside the toys in 2000, and a reboot is currently airing on Disney XD, but the Max Steel story has really been living in a series of direct-to-DVD movies released every year in Latin America since 2006. So while usually when we talk about American movies being made entirely for a foreign audience we're usually talking about China, this is a case where Latin American audiences are the clear target. For all we know, Taylor Lautner is massively popular in Brazil, and he might be brought in to star after all this.
The history of movies based on toys is brief but largely full of sorrow, from massive flops like Battleship to mediocre nonsense like G.I. Joe: The Rise of Cobra to forever-in-development, total nonsense like the endless attempts to make a Ouija board movie. The Max Steel movie will probably be like none of these because no American audiences will pay it the slightest bit of attention. The future of movies based on toys may now be in Latin America-- but don't worry, we'll find plenty of other dumb things to inspire movies that remain popular here in the good old U.S.A.
Your Daily Blend of Entertainment News
Staff Writer at CinemaBlend