Mean Girls Director Will Helm Vampire Academy Movie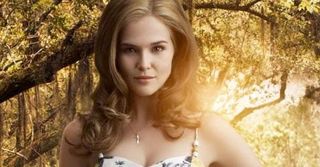 Since he made his directorial debut in 1997 with the dark and demented comedy The House of Yes, Mark Waters has shown a flare for unfolding tales about sassy and at times dangerous young women. Best known for helming the adored 2004 comedy Mean Girls, it's hardly surprising that he's been selected to direct Blood Sisters, the first in Reliance Entertainment and IM Global's Vampire Academy franchise.
Variety reports Blood Sisters will be a family affair as Waters will direct the script penned by his brother, Dan Waters, screenwriter of another biting comedy about teen girls, 1988's Heathers. Based on the six-book Vampire Academy YA series, the film will have elements of romance and the paranormal. But with the Waters brothers on board, I suspect a dark vein of comedy will likewise run through Blood Sisters.
The story focuses on the teens of St. Vladimir's Academy, a place where young vampires learn how to use their powers, and where dhampirs (half-human, half-vampire) teens are trained to protect them. 17-year-old Rose Hathaway is a dhampirs charged with guarding her best friend Lissa, a Moroi vampire princess. Aside from typical high school traumas of gossip, broken hearts, and bullying, Lissa and Rose must also face the complicated demands of their supernatural society's social order while skirting the attention of the Strigoi, a vicious race of vampires that are immortal and feed on the mortal Moroi.
Beautiful Creatures' Zoey Deutch (pictured above) and Australian up-and-comer Lucy Fry will portray Rose and Lissa respectively, while Russian star Danila Kozlovski (We Are From the Future) will play Dimitri, a guardian and Rose's love interest.
Undoubtedly, producers hope with franchise will scoop up fans of the Twilight franchise who can't get enough of teen vampire tales. But those sick of Twilight might have their interest piqued by the Waters bros reputations, I know mine is.
Your Daily Blend of Entertainment News
Staff writer at CinemaBlend.
Your Daily Blend of Entertainment News
Thank you for signing up to CinemaBlend. You will receive a verification email shortly.
There was a problem. Please refresh the page and try again.