Meet The Rock's Newest Character: He Loves Unicorns And Would Kick Your Ass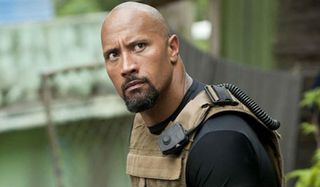 I've said it before and I'll say it again: The Rock's Instagram account is my happy place. It instantly makes me smile when the rest of the world is making me sad. And today was no different. Because today The Rock introduced us to his Central Intelligence character, and he sounds like a bloody gem. Check it out the caption in the image below...
Well, I'm completely sold on Central Intelligence already. Just the thought of seeing The Rock declaring his love for unicorns to a far from impressed Kevin Hart sounds glorious/downright hilarious.
In Central Intelligence, Dwayne Johnson's Bob is one of the CIA's deadliest employees. But in high school he was somewhat of a nerd. Meanwhile, Kevin Hart plays an accountant whose days as the most popular person in school are way behind him. With their high school reunion looming, The Rock's character decides to rope Hart into assisting him in an attempt to foil a plot to sell classified military secrets.
It sounds like funny stuff. And with Ed Helms both co-starring and producing and We're The Millers' Rawson Marshall Turber directing there's plenty of potential for Central Intellgience to prosper. Plus it features The Rock wearing a unicorn t-shirt. Don't believe me? Then check out another of The Rock's Instragram posts:
There are high hopes for Central Intelligence over at Warner Bros. The studio believe that they have got their hands on a potential action comedy franchise that will be of the same ilk as the Jump Street movies. And with Kevin Hart and Dwayne The Rock Johnson on-board not only have they got two actors that are well-equipped at comedy, but they're also incredibly bankable too, having appeared in a number of films that have performed admirably at the box office. They should also have undeniable chemistry that will rival Channing Tatum and Jonah Hill's patter in both 21 and 22 Jump Street.
Central Intelligence will finally be with us on June 17, 2016, and it promises to be a worthy addition to the usual spate of sequels, superheroes and reboots that the summer slate possesses.
Your Daily Blend of Entertainment News