Dwayne The Rock Johnson: 12 Incredible Things You Probably Never Knew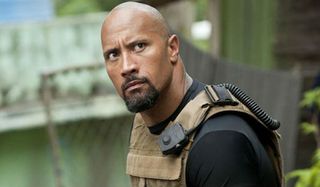 Dwayne "The Rock" Johnson was a household name long before he even started to hit the big screen. The pro-wrestler turned action film star has had quite the career. The 43-year-old isn't even close to finished either. Scoring bigger and badder roles every year, up for superhero flicks, action blockbusters, and everything in between, it seems like Johnson's career is just beginning to blossom, though the actor already has a resume far beyond even the most seasoned of stars.
Johnson's stardom never came easy though. And still to this day The Rock is working harder than most by keeping up with his heavyweight physique as well as signing on to time-consuming roles and an abundance of charity work. The actor, producer, and professional wrestler always has a smile on his face, and how he does it, we can only chalk it up to he must be some sort of superhuman. Now as we gear up for the release of his action-disaster flick, San Andreas, we've found a few more surprising elements that make us love him even more. Here are 12 incredible things you probably never knew about Dwayne "The Rock" Johnson.
His Fast And Furious Character Was Created After A Fan Suggestion
Originally, the role of Luke Hobbs in the Fast and Furious franchise was written for Tommy Lee Jones, not Dwayne Johnson. Luke Hobbs, introduced in Fast Five was supposed to be an entirely different character and was written as a gruff, older man according to International Business Times. But, when Vin Diesel saw a fan's comment on Facebook suggesting that Diesel and Johnson should share some screen time, a new idea arose. Diesel was able to convince director Justin Lin to cast Johnson instead, and a new character was created. So, thanks to one fan's brilliant suggestion, The Rock joined the Furious family.
He Received The Highest Pay For A First Time Leading Role In The Scorpion King
Just a few days ago, Dwayne Johnson set a new Guinness World Record while at the premiere of his latest disaster-action film, San Andreas when he took 105 selfies in three minutes. It was listed as the most selfies taken in record time. But that wasn't the first time Johnson got his name in the big book of records. Back in 2002, The Rock had just landed his first leading role in Chuck Russell's The Scorpion King and for his role as Mathayus, Johnson took home a $5.5 million paycheck. That's the moment Johnson's first record was set, as it was the highest salary of any first time leading actor ever. And it only paved the way to a whole lot more money.
Hosting Saturday Night Live Prompted His Hollywood Career
Back in 2000, Saturday Night Live asked a well-known wrestling celebrity to take center stage and host a show. Dwayne Johnson had become known as one of sport's most entertaining personalities, but this was really the first instance that the world outside got a peek at The Rock's personality. And boy did they notice. It was only five years after Johnson had started wrestling, and was thrown very quickly into the world of Hollywood films. Lorne Michaels recalled Johnson's first hosting gig in a NY Times interview:
He Almost Played The Live Action Version Of Johnny Bravo
After his movie career started rolling, rumors flew about Dwayne Johnson leading a potential live-action feature based on the hit Cartoon Network series Johnny Bravo. It seemed like the perfect role for Johnson to show off his quirky personality along with his beefed up stature. The rumor first broke by Variety back in 2002 as Warner Bros. Pictures purchased the film rights from the Cartoon Network series. One of the producers on the film even teased that it was The Rock was fandom of Johnny Bravo and desire to see it as a feature that prompted Warner Bros to go after the property. But, the rumor soon died out, and nothing came of a Johnny Bravo movie (though can someone bring that idea back!?).
He Was In A Gang As A Teenager
Growing up in Hawaii, Dwayne Johnson had a tough upbringing. Before the age of 17, Johnson was arrested eight or nine times after being involved in a theft ring. After being evicted from his apartment at age 14, the young teenager turned to crime becoming a part of a group that targeted tourists. He told Muscle and Fitness magazine:
But thankfully, The Rock turned to muscle-building around that same time and credits his training to helping him deal with a lot of the depression that was causing him to act out.
He Originally Wanted To Be A Pro Football Player
Dwayne "The Rock" Johnson was a serious football even before his professional wrestler days. After a strong high school career, Johnson was recruited for a number of division one football schools, and eventually decided to go to University of Miami. Known as "Dewey" Johnson played defensive lineman on the 1991 National Champions team. According to ESPN, Johnson was a good player, but no star, and was replaced by Warren Sapp, who went on to be an Hall of Famer and NFL player. But, from Johnson's previous experiences with the game, it sounds like he will have no problem portraying the leading role in upcoming HBO series Ballers which documents the lives of a group of former and current football players.
He Was The Youngest WWE World Champion
When Dwayne "The Rock" Johnson won the WWF Championship for his first time back in 1998, he was only 26 years old. The wrestling star went on to win six WWF Championships before the age of 30, but for a long while, his first win deemed him the youngest WWE World Champion at the time (that was until Brock Lesnar won the title in 2002 at the age of 25). Although this title was given to The Rock at the time of his win, he actually was not the youngest champion ever, as Yokozuna was actually a few days younger than Rock when he had held the title. But, according to Bleacher Report, WWF did not want to publicize that their largo sumo wrestler was actually a very young kid.
He Was On Star Trek Early In His Career
As Dwayne Johnson started to move forward with his acting career he scored a role in The Pendari Champion in Star Trek: Voyager. The role was again one of the wrestling variety in the episode "Tsunkatse". The Pendari Champion was a Tsunkatse fighter who was encountered by the USS Voyager in the Delta Quadrant in 2376. Of course, Johnson's character was victorious, as he fought and defeated Seven of Nine in her debut match. Johnson, who was at the height of his wrestling career during this cameo again got to show off some of his acting chops that would further lead him to his breakout roles.
One Of His Catchphrases Was Added To The Dictionary
Back in his wrestling days The Rock was known for many things, but particularly, fans loved his creative catchphrases. It may seem commonplace now, but Dwayne Johnson was actually the one behind the word "smackdown" and according to Bleacher Report it surfaced back when the wrestler was coming into his own on the mic. Years later, Merriam Webster would announce the world officially a part of the English dictionary. They claim that "smackdown" was first used in 1997, and ten years later, in 2007, it was officially announced as a part of the dictionary. Now, thanks to The Rock, "smackdown" can be used in Scrabble!
He Played His Father, Rocky Johnson On That 70s Show
Dwayne Johnson's first role on television, outside of his wrestling persona, was actually as a different wrestling persona, his father. On That 70s Show, Johnson portrayed his father Rocky Johnson in a 1999 episode entitled "That Wrestling Show". The episode came in the first season of the series when Red takes Eric and his friends to a wrestling match. Dwayne Johnson plays his father in the episode, but at one point references himself as "the most electrifying man in sports entertainment", a phrase often associated with The Rock. This would mark the beginning of Johnson's long and successful acting career.
He Has A Ton Of Family Ties To Wrestling
Dwayne Johnson was the first third-generation wrestler in the WWF. Both his father, Rocky Johnson and his maternal grandfather, Peter Maivia were professional wrestlers, and quite good ones at that. But the ties don't even stop there. Johnson's maternal grandmother, Lia Maivia is one of wrestling's very few female promoters. Johnson also has a whole bunch of cousins and uncles in the league. The Maivia family is known as one of the most successful families in WWE history. According to About.Com, The Rock's family has five members in the WWE Hall of Fame, and their own wrestling school which was was responsible for training WWE Champion Batista.
His Book Was Number 1 On New York Times Best Seller List
Dwayne Johnson had no problem coming up with material for his first memoir back in 2000, The Rock Says… and this was long before his acting career even took off. The autobiography, which was penned along with Joe Layden was a sat number one on The New York Times Best Seller list for several weeks. Now, Johnson gears up to pen his second memoir (and has plenty of material to cover) since the man has been in over 30 films since that time.
Your Daily Blend of Entertainment News