Kevin Hart Almost Killed The Rock: Watch This Awkward On-Set Blooper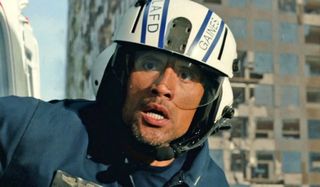 The Rock is still experiencing the aftershock of San Andreas. We recently saw Dwayne Johnson battle an earthquake in the disaster flick, and his next movie, Central Intelligence, has made him the victim of falling debris. Though, in this scenario, his co-star Kevin Hart stood in place of an earthquake. Watch the new on-set blooper below.
Hart and Johnson are busy filming Central Intelligence, and though they're trying to keep everything under wraps for the time being, the comedian couldn't help but share this awkward and funny moment from the set. Hart released the blooper on his Facebook page, showing The Rock suffering a blow to the head after Hart slams the door too hard and shakes some ceiling tiles loose. Because the footage is on loop, it gets funnier the longer you watch it. But it's The Rock we're talking about here! If you thought a falling tile was enough to cause any trauma, then you don't know anything about this former wrestling champ. As Hart wrote on Facebook, he was scared at first that he really hurt him, but now he's looking back on it with laughter. Hopefully this'll be included in the DVD/Blu-ray/Digital Download extras.
Central Intelligence is a new action comedy that stars these two physically opposite actors as a lowly accountant (Hart) and a CIA contract killer (Johnson). The former was a former professional athlete and the latter was bullied back during their high school years. With a reunion coming up, Johnson's character reaches out to the accountant, and what seems like a friendly reunion quickly turns into a mission for the two to stop a plot to sell classified military secrets. Ed Helms from Vacation, Bobby Brown, Amy Ryan from The Office and Danielle Nicolet from The Flash help fill out the supporting cast. Rawson Marshall Thurber, the man who directed We're the Millers and will return to direct its sequel, is on board Central Intelligence, which should give you an idea of the film's tone. If you need more clues, keep watching the blooper above.
Hart recently starred in Get Hard, which was virtually hated by critics but was an example of how he's trying to play off his short stature for comedic relief. Perhaps with The Rock, who pretty much makes every film at least a tad bit better, and a better screenplay from Neighbors star Ike Barinholtz and the guys from The Mindy Project and Analyze That, this one is already positioned to be better.
Central Intelligence is scheduled to hit theaters on June 17, 2016.
Your Daily Blend of Entertainment News