Megan Fox Fired From Transformers Because Steven Spielberg Fears Hitler?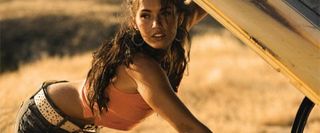 There are a million theories out there, attempting to explain Mega Fox's sudden dismissal from the Transformers franchise and subsequent replacement by a human catfish. The one she'd like you to believe is that she simply quit because she was tired of robots and stuff. We've always believed, however, that Michael Bay didn't like it when she called him Hitler, and so he fired her. But maybe it wasn't Bay who didn't want her.
Steven Spielberg is the executive producer of Transformers and the Daily Mail claims that Michael Bay recently told them it was Spielberg who made them fire her. Bay says, "You know the Hitler thing. Steven (Spielberg) said, fire her right now."
I'm not sure I buy it. I guess we're supposed to think that Spielberg is Jewish and thus really touchy about Hitler stuff, but he's also an adult and I'd hope that would mean he's able to, you know, apply logic to a situation. What Fox originally said was that Michael Bay, "…wants to be like Hitler on his sets, and he is. So he's a nightmare to work for." It was a metaphor for cruelty, not a way of threatening to march the Jews off to camps all over again. Maybe it was a dumb metaphor, but it's not like Spielberg and Bay hired Megan Fox because she was smart. At the time Michael Bay seemed to get it, and simply fired back some snarky comments at her and moved on.
It seems weird that Spielberg would be so overly sensitive about his Jewish heritage that he'd run around firing people for simply using the word "Hitler", as if he's a professor at Hogwarts trying to keep people from saying "Voldemort". It seems weirder still that Michael Bay would actually tell anyone that his boss is that ridiculous, even if it were true. I think the thing to keep in mind here is that the report of this Michael Bay quote from the Daily Mail, where there as likely to invent a fake quote as they are to report a real one. Don't be surprised if Bay comes out and tells everyone he was misquoted, some time soon.
Your Daily Blend of Entertainment News