Melissa Leo Admits Disappointment In Losing Hunger Games Role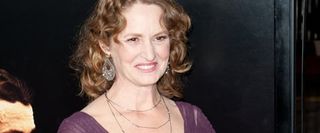 Before a role is cast in a major, highly anticipated film, you'll often hear rumors or shortlists, with a lot of actors listed as "potential picks" for a certain part, and of course only one of them getting the role in the end. You usually don't hear much from the actors who weren't chosen, and many of them seem-- publicly, at least-- to be able to shrug it off as part of the business of being an actor. But Melissa Leo, who has proven her unwillingness to play by Hollywood's standard rules in the past, has broken that unofficial code of silence by confirming that yeah, she was in the running to play Mags in The Hunger Games: Catching Fire. And yeah, she is disappointed she didn't get the part.
She sounds very gracious and understanding in the interview with Moviefone, but she also calls it "a dear hope" to have been in the Hunger Games movies, even though she admits she never read the books. "I'm not much of a reader and that might very well be part of the reason that I did not get the role," she admits. The role wound up going to Lynn Cohen, who you might recognize from playing Miranda's maid Magda on Sex and the City; told that Cohen got the part, Leo played it cool, saying "Who? Oh, I'll have to look her up."
The thing of it is Leo is really too young to play Mags, who is written as toothless and decrepit, frequently having to be carried on the bank of hunky Finnick-- who she mentored before his own Hunger Games-- instead of walking herself. Cohen doesn't list her age on IMDB, but she at least looks significantly older than 51-year-old Leo, who would have had to be aged up to play someone as old as Mags is written. Good on Leo for opening up about a disappointment like that, but I don't think she can take it too personally that she didn't get the role. She may be an Oscar winner, but she's just really not right for the part.
(Image credit via Photo Works (opens in new tab) / Shutterstock.com (opens in new tab))
Your Daily Blend of Entertainment News
Staff Writer at CinemaBlend