Michael B. Jordan Says Creed Movie Definitely Happening, Confirms Stallone's Involvement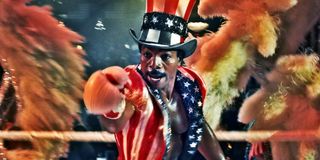 Sylvester Stallone currently is blowing up movie theaters (figuratively) as a member of The Expendables. But one of Sly's most iconic franchises plans to continue with his involvement (to a certain extent). We'd heard rumblings about a Creed movie, with Michael B. Jordan playing the pivotal part. Now, we know for sure it's happening, and probably soon.
Last October, we noted that Chonicle star Michael B. Jordan was eyeing the movie Creed, a Rocky spinoff directed by Fruitvale Station helmer Ryan Coogler. The movie is supposed to cast Jordan as the grandson of Apollo Creed's character – played by Carl Weathers in the original Rocky movies. It also was suggested that Sylvester Stallone would return to the ring to coach Jordan's young boxer… much the same way that Mickey coached the young Rock way back when this franchise got off the ground.
During an interview with The Source, Michael B. Jordan confirmed that Creed is back on his radar now that he has wrapped filming on The Fantastic Four. He tells the magazine:
What will the dynamic between young Creed and an older Rocky Balboa be like? I think that dynamic should fuel the drama in Creed. After all, it must be common knowledge around the Creed household that Balboa held on to the towel for too long, letting this happen. "You will lose."
Michael B. Jordan doesn't give it a time frame, though he's confident that Creed will happen. What does that mean for The Fantastic Four 2, which Fox already programmed for July 14, 2017? It's possible that Ryan Coogler, Jordan and Stallone keep Creed gritty and loose, shooting quick and giving Jordan a palette cleanse between blockbuster superhero films. Either way, it sounds like they have enough of a concept for Creed to keep it on the frontburner for Jordan reuniting him the Fruitvale Station director and breathing life into a franchise we thought had thrown in the towel.
Movie junkie. Infatuated with comic-book films. ReelBlend cohost. Resident dad. Extroverted introvert. Wants to see the Snyder Cut. Managing Director at CinemaBlend.
Your Daily Blend of Entertainment News
Thank you for signing up to CinemaBlend. You will receive a verification email shortly.
There was a problem. Please refresh the page and try again.